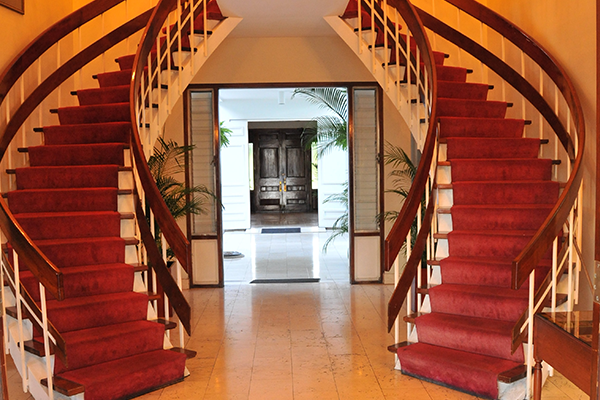 A Design Competition held in 1963, was won by Architect, Lloyd Shearer and his business partner, Marvin Goodman. The prize was Two Hundred Pounds (£200 or J$400). A Competition was also held to select a name for the building and from the 74 entries, the name Jamaica House was chosen. The winner received One Hundred Pounds (£100 or J$200).
Construction of Jamaica House was completed by late 1963. The House consists of a two-storey main building and outbuildings which at that time had household staff quarters, cabana rooms, a swimming pool and a gate house. The main building has an outstanding front portico, with columns flanked by panels of splint-face Serge Island greyish-green marble. The House is divided into two (2) parallel wings with a connecting bridge at first floor level.
Downstairs was the Banquet Hall, and the Prime Minister's Study, while upstairs were two (2) suites. The suite in the guest wing facing Hope Road, contained a sitting room, bedroom and bathroom while the private wing on the other side, had three bedrooms, bathrooms and a sewing room.