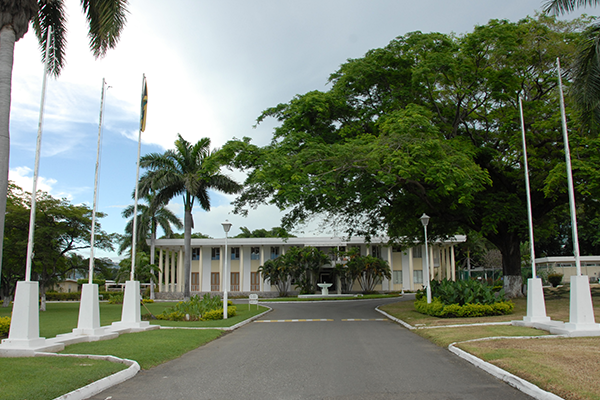 A few months after construction of the House was completed in 1963, staff from the Royal Botanical Gardens landscaped the Jamaica House Grounds. In 1974 the Mural and Pocket Park on the south eastern end of the Grounds were established as well as the Jamaica House Basic School, which is located on the western area of the Grounds, south of King's House. The School was opened in September 1974 and accommodated children from the surrounding area and children of Office of the Prime Minister (OPM) Staff. On the western side of the Grounds, near Devon Road, was a playing field complex with paved tennis courts, football field, cricket pitch and netball court.
A portion of the southern end of the Jamaica House Grounds was cut off in 1974 to make way for the construction of the Louise Bennett Garden Theatre. The Theatre includes an orchestra pit, dressing rooms, seating and sanitary facilities.
The Ranny Williams Entertainment Centre, which adjoins the Louise Bennett Garden Theatre, has similar facilities and was also built in 1974 on land which was formerly part of Jamaica House Grounds.