Curfew Measures Extended for Two Weeks: Prime Minister Reiterates No More Lockdowns
---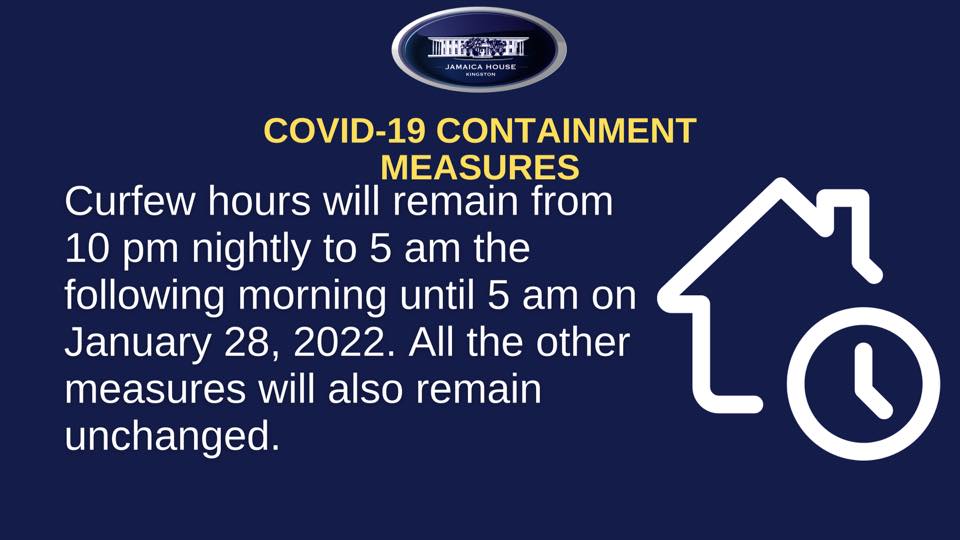 We cannot allow ourselves to be defeated by the pandemic.
Prime Minister Andrew Holness has announced a further two weeks extension of the current COVID-19 containment measures.
The Prime Minister made the announcement while speaking in Parliament today, (Tuesday, January 11, 2022). The extended measures will expire on January 27, 2022.
Prime Minister Holness said: "As a result of the fourth wave the existing measures will remain in place until we have more information on the number of positive cases that results in hospitalization and in particular, require high flow nasal oxygen."
The nightly curfews will therefore remain 10:00 pm to 5:00 am January 28, 2022.
In the meantime, Prime Minister Holness reiterated that the country cannot afford more lockdowns. He, therefore, urges all Jamaicans to get immunised and for persons to get booster shots as soon as possible.
The Prime Minister said: "The Government will continue to work in providing public education on vaccines and will ensure the continued secure government operations and services. The country must move on, with our lives and getting the economy back on track. We cannot allow ourselves to be defeated by the pandemic."
Further to his announcements, Prime Minister Holness stated that he is pleased with the resumption of face-to-face schools. Notwithstanding, the Prime Minister encourages parents and guardians to closely monitor their children.