Do not Support or Defend Criminals Urges Prime Minister Holness
---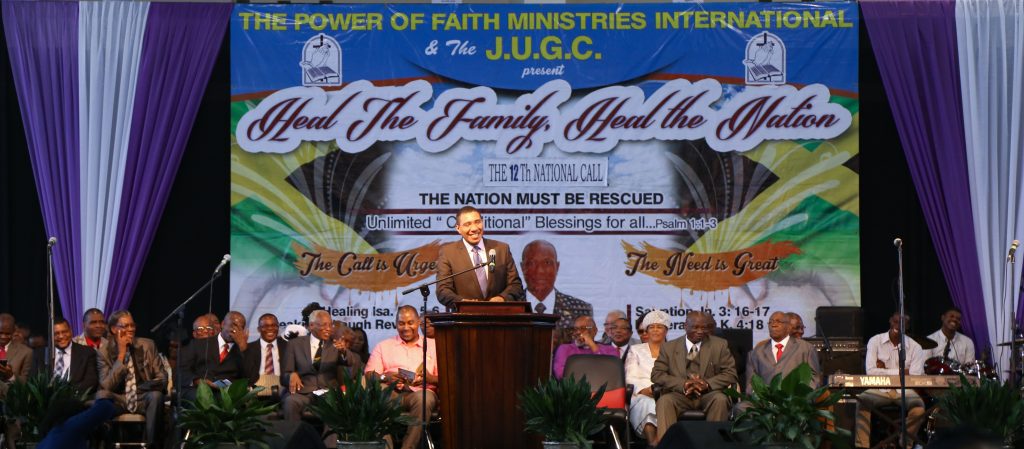 Prime Minister Andrew Holness is making a plea for persons to stop supporting criminals. In his address at the 12th Annual Heal the Family, Heal the Nation service, at the National Arena yesterday (Wednesday, January 4) he said "Now is the time when  law abiding Jamaicans must turn their backs on the criminals. Don't let them survive in your community. Don't give them safe haven in your community."
Insisting that persons must do their part in the fight against crime, Prime Minister Holness noted that the society must reject criminals. "We can't continue as a society where when we act, you have persons defending the criminals.  We can't continue as a society that when we act you're hearing this was a good man – a protector of the community. The only protector of the community must be the government of Jamaica, the police force and Jesus Christ the Almighty Saviour. We don't need any dons and criminals to protect us," said Prime Minister Holness.
The prime minister also said physical violence should be rejected as normal in the society. He stated, "We need to change that. We need to transform that and the first place in which we can stop the use of violence in our day to day action is in the family. Start with how you talk to your children. You don't have to use violence to correct them…the son who was brutally corrected often times turn out to be the son who is the abusive spouse."
He explained that society must find other ways to deal with conflict. He also added that the police force needs to increase their training in spotting and immediately dealing with issues of domestic abuse. The prime minister made it clear that the Police should take firm action against any report of domestic abuse.
According to Mr Holness crime is the greatest threat to the economy and the family, and called for political unity to address issues associated with crime and violence.  In addition, he said the church has the power to change and must help to drive that change in the society.
The 12th annual Heal the Family, Heal the Nation service was organized by the Power of Faith Ministries International in association with the Jamaica Umbrella Group of Churches under the theme Working Together for Kingdom and Nation Building.
–30–
Contact:    Communications Unit-OPM
Tel:   926-0244, 927-4101        Email:  [email protected]/[email protected]
Website:      www.opm.gov.jm  Facebook:  www.facebook.com/jamaicahouse  Twitter:  www.twitter.com/opmjamaica