Government Strategically Planning Development – PM Holness
---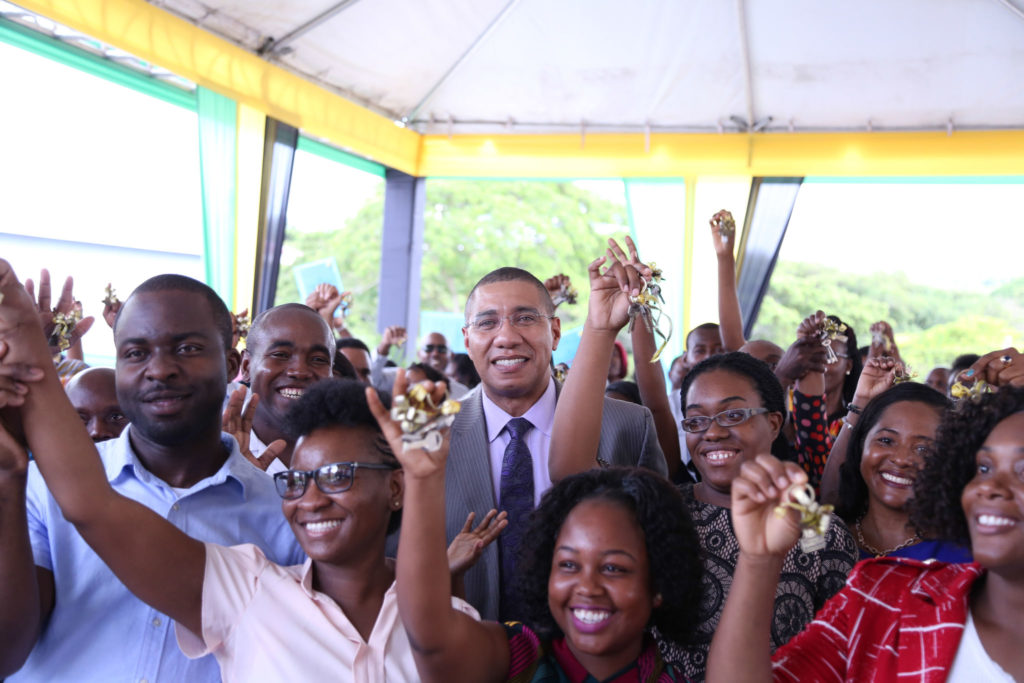 Prime Minister Andrew Holness says providing housing solutions is a major part of the Government's strategic plan to decisively deal with the issue of informal settlements.
Speaking at the National Housing Trust's (NHT) handing over ceremony for Castlewood at Granville, Trelawny, the Prime Minister said the Government is making every effort to provide housing solutions to foster greater development for Jamaica.
"All Jamaicans must come to the recognition that you can't settle wherever you choose," said Prime Minister Holness. He explained that the government understands the need for housing and the historical challenges however the government has a no tolerance policy for unplanned developments.
He continued, "the Government has to get ahead of informal settlements and provide the solutions so that we can say to the people who have it in their mind to develop informal settlements, NO! – We (The government) are building enough houses and we are providing the modalities – that is, the ways in which you can access the housing that are reasonable."
In that regard, the Prime Minister reiterated the Government's commitment to giving everyone a fair chance of owning their own home and living in a secure environment.
"What we have tasked the NHT to do is not just to build more housing – is to lead the development of planned housing solutions so that everyone can have a fair chance of not just owning their own home but living in a decent community where they can have access to potable water In their house, electricity legally connected in their house, taxis that will stop at their gate without fear, roads that are planned for – for which your property taxes that you pay will repair, garbage collection that will happen, routinely and on time," explained Prime Minister Holness.
The Prime Minister also used the opportunity to underscore the Government's road infrastructure plans.
"The Government of Jamaica is heavily invested in improving road conditions throughout Jamaica. The government will have to very soon shift focus to deal now with the other kinds of roads, the arterial roads, the roads leading into rural communities that have been neglected for years," stated Prime Minister Holness.
In the meantime, Prime Minister Holness encouraged the new homeowners of the Castlewood development to challenge and improve the social norms that have held back many communities for a long time.
According to the Prime Minister, the parish of Trelawny is a good location for residential development in addition to the expanding tourism industry.
The NHT developed 25 service lots and 58 detached two-bedroom housing solutions at the Castlewood community at Granville, Trelawny at approximately JMD $137 million.