Government values Partnership with Food For the Poor – MHPM Holness
---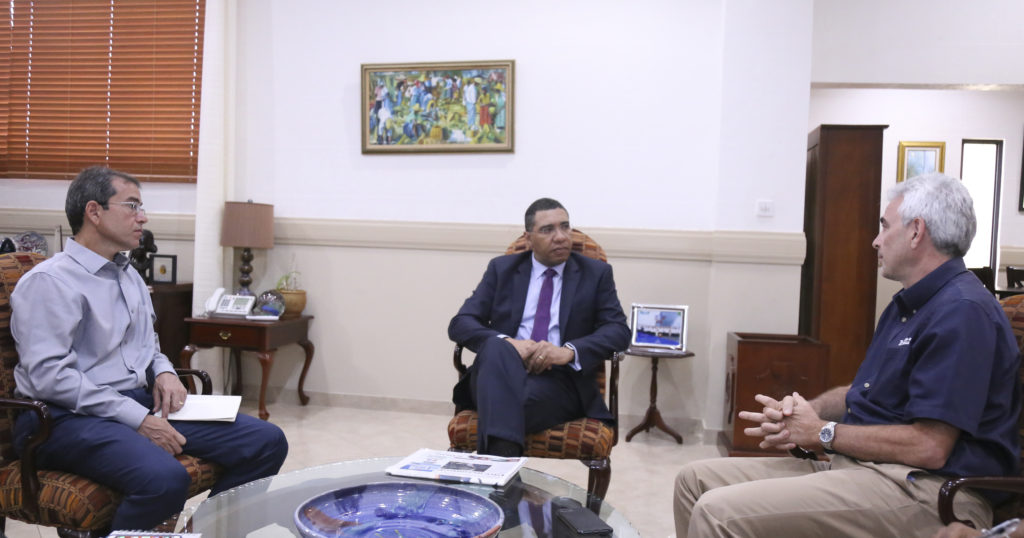 Prime Minister Andrew Holness has strongly stated the Government's commitment to its partnership with the international charity organisation Food For The Poor (FFP).
FFP is a non-profit organisation aimed at providing programmes, including housing to help the poor.
"Government values the partnership with Food For the Poor. This partnership has my full support as it affords needy Jamaicans a home with modern amenities which is delivered well below market rate at no cost to the recipient. At present it costs US$6,400 to deliver a unit with government providing US$3,200 of the amount and FFP providing the remaining portion," said Prime Minister Holness.
The prime minister stated his commitment during a meeting with Chairman of Food For The Poor Jamaica, Andrew Mahfood and his deputy Chris Bicknell.
The Government has been partnering with the organisation to provide housing for needy Jamaicans across the country.
In the meantime, the prime minister says the Cabinet is also in full support of the work that FFP continues to conduct for the benefit of the Jamaican people.
He has instructed that the Ministry of Economic Growth and Job Creation and FFP begin early discussions for a new contract prior to the expiration of the existing one.
"Jamaica is grateful to Food For The Poor which has mobilised international help in delivering its services in Jamaica. The contractual end of the programme is this August and as a Government, we will seek to negotiate a new arrangement because Food for the Poor has an excellent track record of delivering houses well below market rate," added Mr Holness.
The prime minister has committed to meeting with Government Members of Parliament and will suggest the Opposition Members meet to determine any issues that MPs may face under the current execution of the programme.
The prime minister also said it was unfortunate that some Government MPs may have addressed any issue with FFP in a manner that seemed confrontational. He said that is not the position of his administration and noted the long partnership between successive administrations and the organisation.
In the meantime, for his part, the Chairman of FFP Andrew Mahfood welcomed the meeting with the prime minister and pledged the organisation's continued support.
"We are happy you have invited us to clarify all matters and state your support to our organisation. The quality of work done on our housing projects is of a high standard. FFP is committed to being of service to the needy in Jamaica and we continue to collaborate with the Government. Though we are an international organisation we were founded right here in Jamaica by Jamaicans," said Mr Mahfood.
FFP was founded in 1982 as a charity organisation to provide relief to the needy.