Jamaica Committed to Sustainable Development Goals
---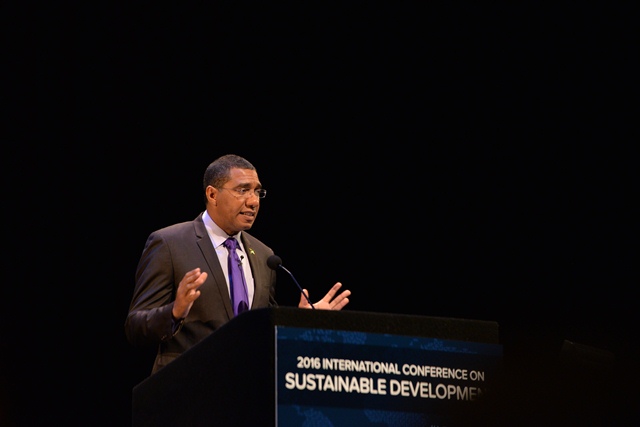 Jamaica Committed to Sustainable Development Goals
Prime Minister Andrew Holness has reaffirmed Jamaica's commitment to achieving the Sustainable Development Goals (SDGs). Addressing an International Conference on Sustainable Development at Columbia University, New York, on Wednesday, September 21, the Prime Minister said "Jamaica is naturally and irrevocably aligned to the sustainable development goals and at every opportunity we reaffirm our commitment to achieving them. Furthermore, Jamaica will play its part in regional and international fora to promote attainment."
Prime Minister Holness pointed out that Jamaica's focus is on economic growth and job creation, which will be used to achieve the Sustainable Development Goals related to health, education and eradication of poverty.
According to the Prime Minister while Jamaica has recorded impressive improvements in the human development index, much of the development has been achieved through the accumulation of debt. He said these high levels of debt posed an existential risk to the economy and have the potential to retard, and even reverse, social and economic development.
He highlighted that debt reduction is a major priority for the government stating "Debt reduction must be a priority as it remains, in our case, the single biggest obstacle to development. High debt increases the perceived risk of the economy, increases the cost of capital, leads to government crowding out of the private sector and ultimately retards economic growth, on which development depends."
Noting that Jamaica's designation as a lower middle income country makes it ineligible to receive certain type of concessionary financing from International Financial Institutions (IFIs) and that the problem of high debt burden can undermine Jamaica's ability to meet commitments to implement the SDGs, Prime Minister Holness made an urgent call for IFIs to review their financing policy.
"Jamaica is not only calling on the International Financial Institutions to review their policy on graduating middle income countries from development financing, using GDP as the sole criterion, we are also proposing a carve out, within Middle Income category, for Small Highly Indebted Middle Income Countries ("HIMIC") where the inclusion of other indicators are used in determining economic well-being," he said.
Mr Holness emphasized that while advocating for this change in policy, Jamaica is actively promoting a culture of self-sufficiency while developing creative and innovative strategies to repay debt, achieve sustainable development and prosperity.
–30–
Contact:    Communications Unit-OPM
Tel:   926-0244, 927-4101        Email:  [email protected]/[email protected]
Website:      www.opm.gov.jm  Facebook:  www.facebook.com/jamaicahouse  Twitter:  www.twitter.com/opmjamaica