Jamaica is Taking Responsibility of its Economic Reforms – PM Holness
---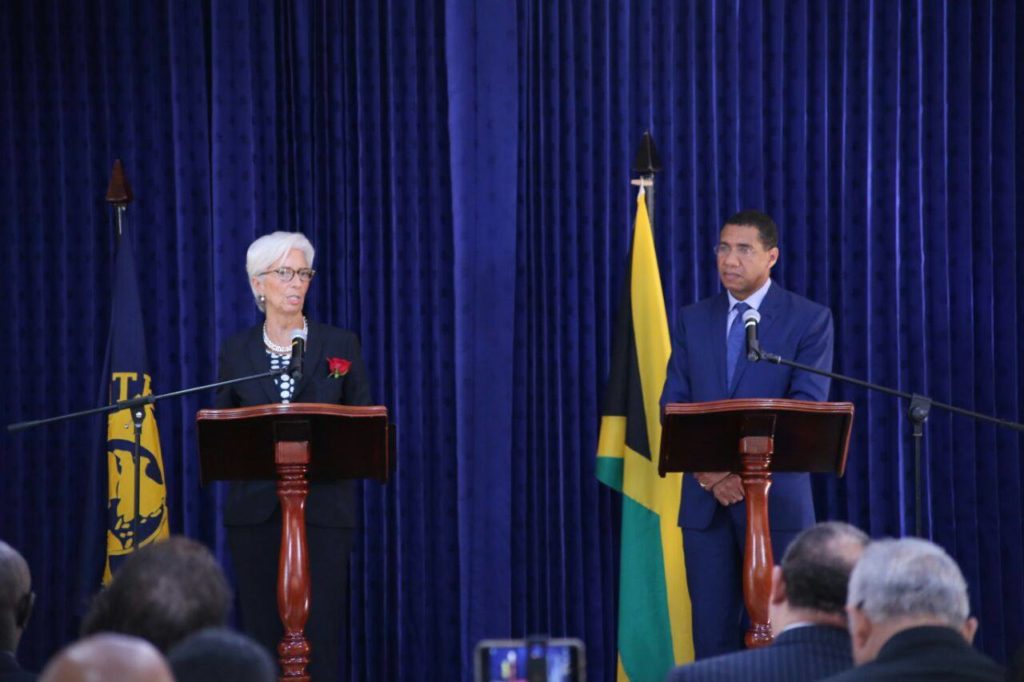 The country is steadily making progress by taking more ownership and responsibility of its economic reforms.
Prime Minister Andrew Holness says this ownership is significant as the country implements various institutional management mechanisms necessary for growth and development.
He made this comment at a joint press briefing with the Government of Jamaica International Monetary Fund (IMF) this morning (November 17) at the Office of the Prime Minister. He was joined by Christine Lagarde, Managing Director of the Fund who is on the island for a working visit.
"Country ownership and responsibility mean implementing policies not just to meet a target or to pass a review but also because they are central to our goal of economic independence", explained Mr Holness.
The Prime Minister noted that Jamaica continues to utilize the incredible technical assistance and support of the IMF as the country makes significant strides.
"Macroeconomic economic stability is entrenched. Public debt is on a downward trajectory. The labour force is expanding and employment is increasing. Over 50,000 jobs have been created in the last 12 months. Growth is occurring although at rates that could be a little bit faster but we are seeing growth nonetheless," he stated.
He further declared that "Public finance is considered credible and monetary reforms are bearing fruit. This collectively represents material progress, however much remains to be done."
The Prime Minister said true economic independence comes when poverty has ended in Jamaica. He acknowledged that the 2015 Survey of Living Conditions indicates poverty has increased but pointed out that the government has sought to mitigate the effects by increasing social investment and broadening the social safety net.
"I want to assure Jamaicans that this government is committed to pursuing policies that will lift Jamaica out of poverty," the prime minister asserted.
Meanwhile, Madame Lagarde commended Prime Minister Holness for being a passionate advocate for economic independence and said the IMF is a tool and partner in this endeavour to achieve economic independence.
She also applauded the government's inclusive approach in carrying out its reform programmes which have garnered public support through communication and reaching out to civil society.
"Jamaica is setting standards in that respect. I have never seen a programme that is inclusive in the way in which you (the government) reach out to civil society and the various committees that have accompanied all along the programmes are critical to understand, negotiate, endorse and eventually implement at the end of the day what you committed to. I hope that continues and this communication, this consultative process that you have used so far will continue throughout the years to come", urged the IMF Managing Director.