Launch of GOJ Portal Represents a Critical Element of the Transformation of the Public Sector
---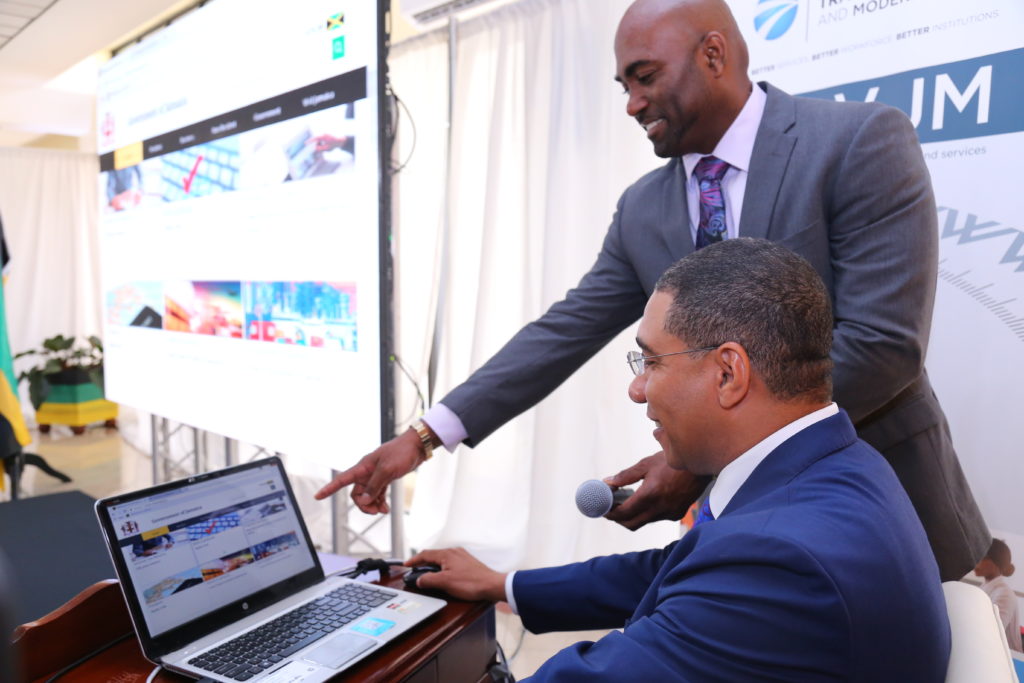 The Government of Jamaica has launched a single online gateway to all Government information and services.
The e-portal was launched yesterday (August 9) at the Office of the Prime Minister in Kingston.
Speaking at the launch Prime Minister Andrew Holness said the portal represents a critical element of transformation in the public sector.
According to Prime Minister Holness, information technology can revolutionize bureaucracy by increasing the decision-making process and making departments and agencies of government more transparent and efficient.
"The various departments and agencies of government will have to look at the processes, see where there are redundancies and integrate them. All of that is a benefit to the citizen consumer. But the people who operate the bureaucracy must never see this as detrimental to them. It doesn't mean that you won't exist, that your job will go. What it means is that your job may change," stated the prime minister.
He noted that there is a global revolution being led by information and Jamaica must embrace a digital culture.
"The information revolution is here. We must see it as a tool for development," Prime Minister Holness asserted.
Meanwhile, Mr Holness noted that the implementation of a national identification system will enhance e-identity by giving each person a unique identifier to conduct business with the government on a digital platform as well as physically.
The portal, GOV.JM is designed to be the central place to perform online transactions with government and find information on how and where to access government services and receive feedback. By bringing together information now housed on numerous government websites into a single place, GOV.JM will be a simpler, clearer and faster way for customers to find information and do business with the government.
The GOV.JM project is a partnership between the PSTMP (under the auspices of the Office of the Cabinet), the Ministry of Science, Energy and Technology (MSET), and its portfolio agency, eGov Jamaica Limited.  Funding is provided by the GOJ and the Inter-American Development Bank (IDB), under the Public Sector Efficiency Programme (PSEP).
–-30–
Contact:    Communications Unit-OPM
Tel:   926-0244, 927-4101        Email:  [email protected]/[email protected]
Website:      www.opm.gov.jm  Facebook:  www.facebook.com/jamaicahouse  Twitter:  www.twitter.com/opmjamaica