PM Holness Announces State of Public Emergency in St. James
---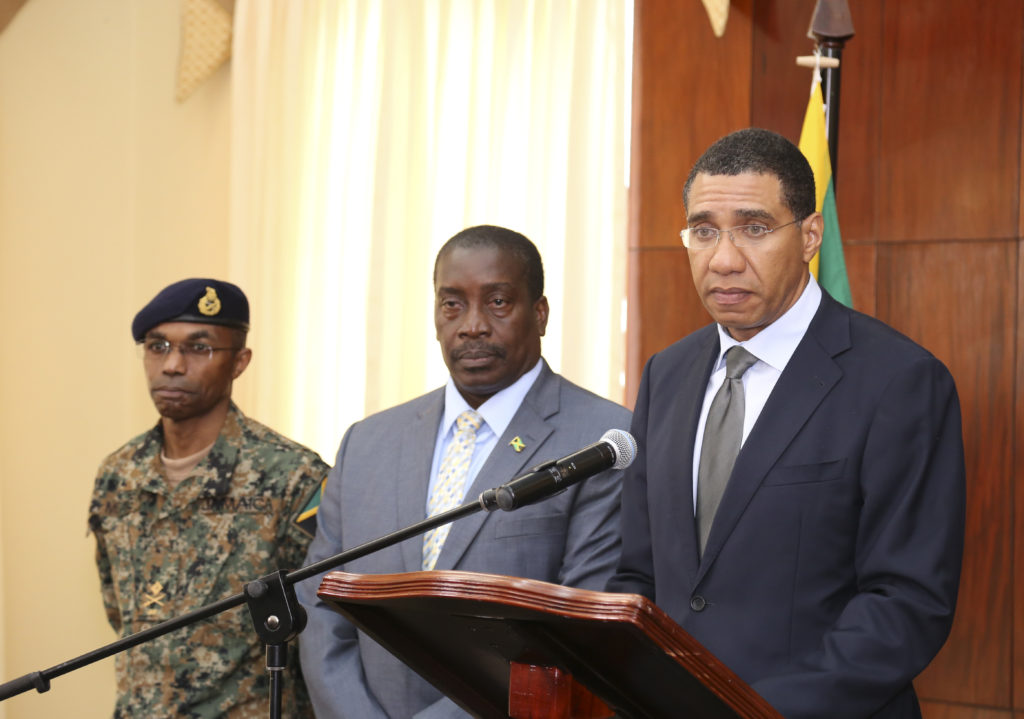 Prime Minister Andrew Holness has declared a State of Public Emergency in the parish of St. James effective Thursday, January 18.
The Prime Minister made the announcement this afternoon (January 18) at a press conference held at Jamaica House.
"Crime and violence in particular murders have been escalating in the parish of St. James. I have been advised by the security forces in writing that the level of criminal activity experience continued and threatened, is of such a nature and so extensive in scale as to endanger public safety", said the Prime Minister.
The Governor General signed the Proclamation to bring into the effect the state of public emergency. The Proclamation has also been gazetted.
The constitution provides that a period of public emergency can be declared by a proclamation if the Governor-General is satisfied that action has been taken or is immediately threatened by any person or body of person in such a nature and on so extensive a scale as likely to endanger public safety.
Last year, 335 murders were recorded in St. James, which is twice the number of any other parish.
Prime Minister Holness outlined that under the state of emergency the security forces will have extraordinary powers and some rights will be suspended. He noted, however, "This does not mean that use of these extraordinary powers can be arbitrary or are beyond review. The security forces are expected and have been directed to treat citizens with respect and protect the dignity and safety of all".
The security forces will have the power to search, curtail operating hours of business, access to places and to detain persons without a warrant.
In addition, all persons using all roads leading in and out of St James will be subject to vehicle and personal search. In various areas of city and township, there will be joint static and mobile patrol. Persons may also be stopped at various checkpoints.
Meanwhile, Security Minister, Hon. Robert Montaque made an appeal to the citizens of St. James for their full cooperation during the period. He acknowledged usual activities may be curtailed. However, he assured that the operations to be carried out by the security forces will be targeted at the criminal elements and their facilitators.
"Any information you have, we need it. We need your full cooperation in moving forward in restoring peace and order so that the good people can continue to contribute to the well-being of Jamaica", said Minister Montaque.
If persons have any information to assist in the crime fighting effort, they may call crime stop, 311.
A special hotline has also been set up to be manned by the Jamaica Defence Force for persons to give information.  The number is 837-8888.
—30—
Contact:    Communications Unit-OPM
Tel:   926-0244, 927-4101        Email:  [email protected]/[email protected]
Website:      www.opm.gov.jm  Facebook:  www.facebook.com/jamaicahouse  Twitter