PM Holness Calls for the Lifting of Embargoes
---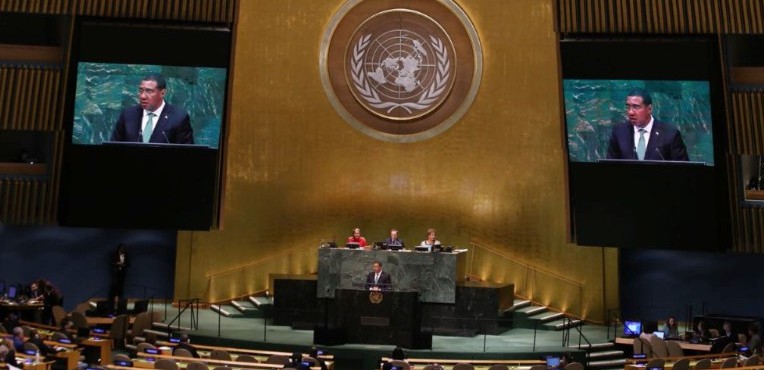 Prime Minister Andrew Holness has called for the lifting of embargoes against the Republic of Cuba.
Prime Minister Holness used the international platform at the United Nations General Assembly in New York today (September 27) to call for the removal of sanctions against Cuba.
As the Prime Minister delivered his statement to world leaders, he noted that societies function best within an inclusive global environment, where no one feels left behind.
"Implementation of the Sustainable Development Goals (SDGs) must be people-centred. Embargoes and other financial and economic barriers must not become tools to prevent people, such as our neighbours, the citizens the Republic of Cuba, from attaining their right to development.  Jamaica continues to call for a lifting of the embargoes against that country," said Prime Minister Holness.
In his address, the Prime Minister also noted that it is important for the UN to support the efforts of the Secretary-General and his special envoy in pursuing political processes related to situations in Western Sahara, Syria and Myanmar.
In that regard, Prime Minister Holness said each nation should be mindful of others who consistently face discrimination as the world prepares to commemorate the 70th anniversary of the Universal Declaration of Human Rights.
"Jamaica has been at the forefront of international human rights, having been the first country to incorporate human rights into our foreign policy strategy – a principle that we guard fiercely. We will never lose sight of the responsibility to promote and protect the interests of the vulnerable. We are especially keen to ensure that our women, children, persons living with disabilities, elderly and young people can make meaningful contributions, and reap, the benefits of a safe and prosperous society," stated Prime Minister Holness.