PM Holness Commissions Historic FSRT Facility Off the Coast of Old Harbour
---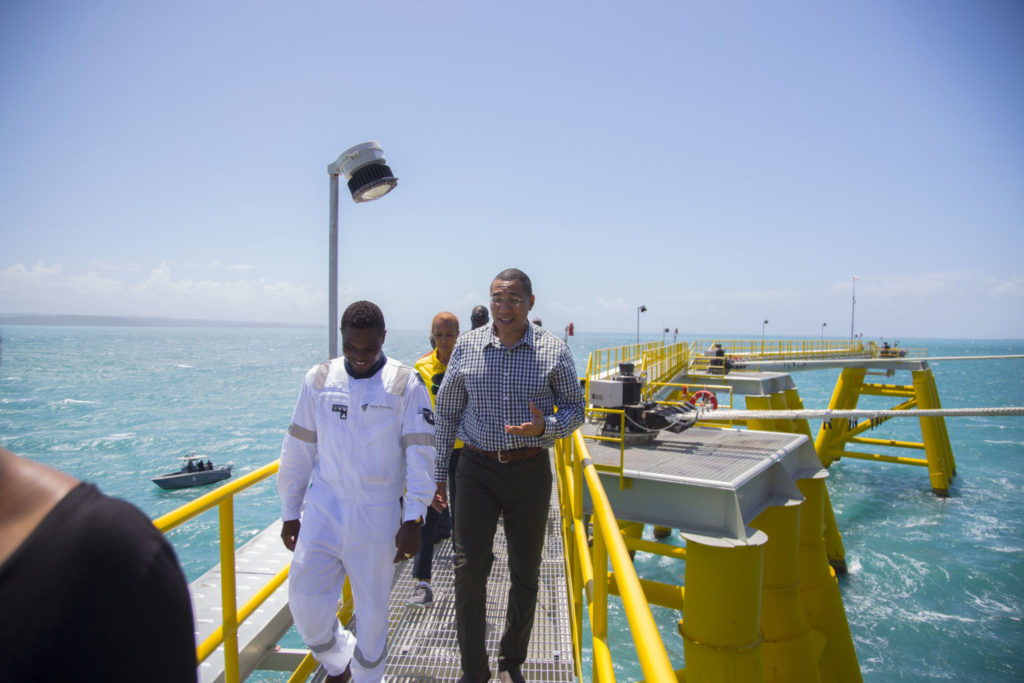 Jamaica has moved a step closer in further diversifying its energy mix with the official commissioning of the Floating Storage Regasification Terminal (FSRT) which will supply Liquified Natural Gas (LNG) to Jamaica.
Prime Minister Andrew Holness yesterday (July 19) officially commissioned the facility into service during a ceremony on the Golar Freeze barge docked in Old Harbour.
The historic undertaking of the FSRT is the first of its kind in Jamaica and the region which will serve the country's energy security needs and diversification. The project was undertaken by the US-based New Fortress Energy.
According to the Prime Minister, the completion of the terminal will establish Jamaica as a premier LNG hub.
"Today we celebrate a significant milestone in the partnership between the people of Jamaica and New Fortress Energy. We are on track to achieve an ambitious goal which is to have at least 50% of our electricity generation from renewables or cleaner fuels. We are almost there at 44% when we complete Old Harbour and that is a major significant achievement. The completion of the terminal will firmly establish the island as a premier LNG hub. It is the first of its kind in the Caribbean and will supply the 190 megawatt to the Old Harbour power plant through natural gas pipelines." said Prime Minister Holness
The Prime Minister noted that Jamaica's energy policy requires the development of its energy resource potential to enhance international competitiveness and energy security in addition to reducing carbon footprint.
"Over the past decade, LNG has been approximately 30% cheaper than diesel and projections are that it will continue to be cheaper than the select fuels and what I like about it, is that it is more environmentally friendly and It burns significantly cleaner than other oil-based fuels.  Jamaica is not a significant emitter of carbon and other environmentally depleting emissions but Jamaica suffers from the effects of climate change by virtue of its location by virtue of being an island and by virtue of being small and so we have to be environmentally conscious. We have to internalize that and integrate that into everything that we do. We have to be an example for the rest of the world," explained Prime Minister Holness.
He noted that with the historic new Terminal Jamaica is now firmly rooted in the LNG industry.
"We are demonstrating that we can put in place the necessary investment, building infrastructure that both reduces the costly consumer but also most important, reduces the cost to the environment and I think this is a very good example of that, it is a win, win for all of us", stated Prime Minister Holness.
In that regard, the Prime Minister said, the future of Jamaica is not just for the electricity generation but for transforming the transportation sector as well and for general industry and commerce.