PM Holness says Jamaica must be a society of meritocracy
---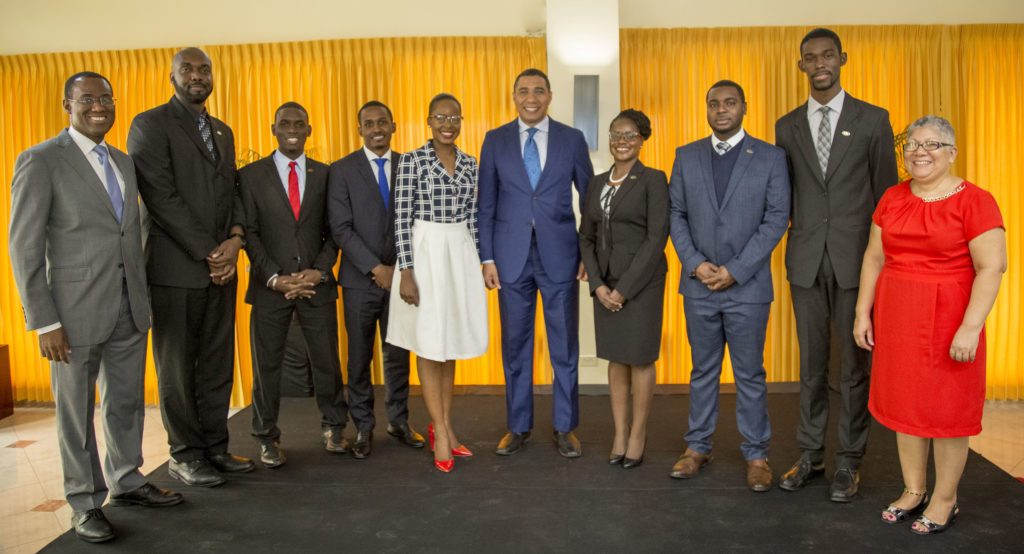 The historic Jamaica House Fellowship Programme has been officially launched.
Prime Minister Andrew Holness this morning (March 8) pinned eight Jamaicans who are part of the first cohorts of young Jamaican professionals who will serve in the Government of Jamaica for a two year period.
Speaking at the ceremony Prime Minister Holness said that the society must become one of meritocracy.
"The Jamaica House Fellowship programme is just one idea in a series of things that we are going to do to ensure that the Jamaican state is seen in the best way, in the best light, held in the highest regard; to create a society of merit. The Jamaican state has to become a meritocracy, so the man who plays by the rule will be rewarded", said Prime Minister Holness
The eight individuals, six men and two women, will be placed in a fast paced collaborative environment within Ministries, Departments and Agencies based on Government priorities, skillsets, experience and areas of interest. Each Fellow will work on, provide support to and implement high priority Government initiatives.
"We have to be a society of excellence. Too often we are willing to compromise on standards especially in Government and that has to change. It is because it is Government that we should give the best service because you are building your society and your country, and you will ultimately benefit. And we will have to get this culture (of excellence) back in Government. Its part of the transformation of Government," declared Mr. Holness.
The Jamaica House Fellows will be assigned to special projects; required to meet on a regular basis; and prepare reports on their activities which will be reviewed based on key performance indicators.
The fellows are; Jerome Cowans, Lavois Cruickshank, Christopher Graham, Karelle Samuda, Andre Silburn and Aubrey Stewart – all university graduates. And Mark Tracey, who has been seconded from the private sector.
–30–
Contact: Communications Unit-OPM
Tel: 926-0244, 927-4101
Email: [email protected]
[email protected]
FB: www.facebook.com/jamaicahouse
TW: www.twitter.com/opmjamaica
Web: www.opm.gov.jm