PM Holness Thanks Ambassador Clarke for Public Sector Service
---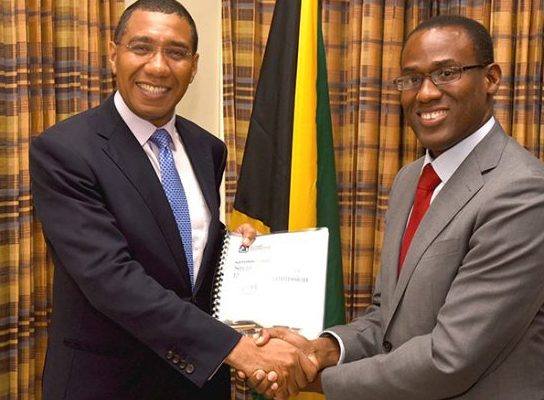 Prime Minister Andrew Holness today thanked Ambassador Dr Nigel Clarke for his service to Jamaica as Chairman of the National Housing Trust, Chairman of the Board of the Port Authority of Jamaica and Deputy Chairman of the Economic Growth Council.
Having been elected as Member of Parliament for NW St. Andrew last week Ambassador Clarke has given up all positions he held on government boards.
In expressing appreciation to Dr. Clarke, Prime Minister Holness stated, "In accordance with the policy of my government, Ambassador Clarke's stewardship of the National Housing Trust has been characterized by a refocusing of the Trust on its central task of providing housing solutions, and in particular, affordable housing solutions."
Under his chairmanship, NHT housing starts have increased dramatically and in the 2017/18 financial year, the NHT is set to achieve approximately 5,200 housing starts, which will be, by far, the highest number of NHT housing starts in approximately twenty (20) years.
In addition, under Dr. Clarke's Chairmanship, the NHT has completed planning for over 20,000 NHT housing starts by 2020 and has spearheaded innovative programs to drive even more growth in affordable housing solutions through partnership with the private sector.
With respect to the Port Authority, the Prime Minister stated, "Dr Clarke assumed the Chairmanship of the Port Authority at a delicate time during the final stages of the divestment process of the Kingston Container Terminal and successfully oversaw the divestment and over US$400 million of investment for Jamaica."
Ambassador Clarke also served as Vice Chairman of the Economic Growth Council.
The Prime Minister stated, "Ambassador Clarke was a guiding force behind the Work of the EGC; including wide ranging policy reform recommendations many of which have since been adopted by the Government."
Dr. Clarke continues to serve as an advisor to Prime Minister Holness and Ambassador of Economic Affairs, working out of the Office of the Prime Minister, interfacing with Multi-lateral agencies, and working closely in the monitoring of the Precautionary Stand-By Agreement with the IMF.