PM Lauds CAP Students on their Performance on the International Stage.
---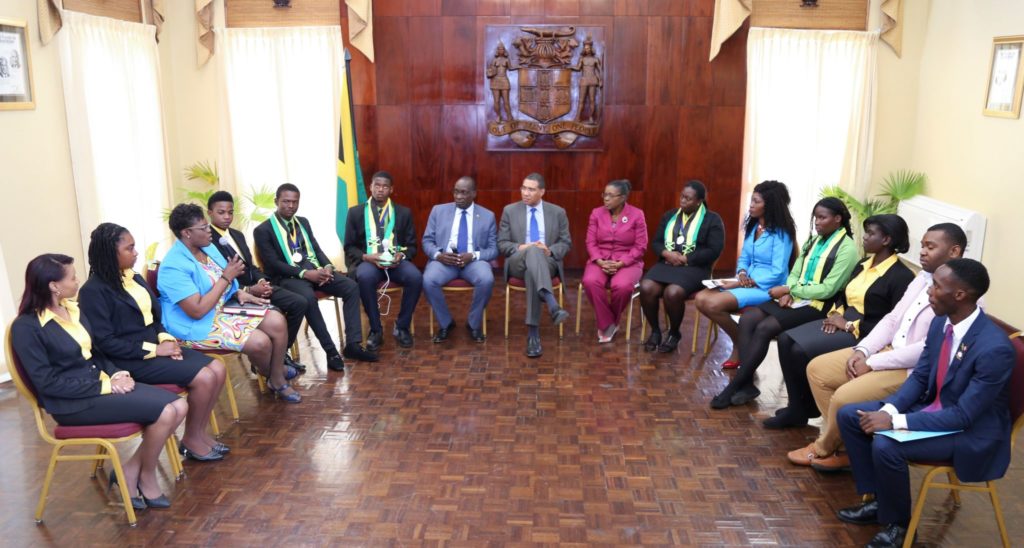 Prime Minister Andrew Holness has congratulated members of the Career Advancement Programme (CAP) Entrepreneurship Team who copped second place at the recently staged Youth Entrepreneurship Summit at Delaware University in the United States.
The Prime Minister yesterday (April 24) addressed the seven member team at Jamaica House.
The team, under the name Paradise Care took the runner up prize in the Diamond Challenge competition in the social innovation concept segment.
Paradise Care is a not-for-profit organization that addresses the improper disposal of plastic bottles and transforms disposed plastics whilst beautifying the environment and educating the population about recycling.
Prime Minister Holness who conceptualized the Career Advance Programme had high praises for the team members and their achievement in the international arena.
"It is very good to see the idea conceived to the point where it is now working. An employer can now make an investment without worrying that he/she will have to train and develop the right attitude because you would have already gone through the technical, vocational and apprenticeship stage," said Prime Minister Holness.
The CAP students competed against approximately 700 teams from across the globe.
The team's concept to re-use plastics to create energy efficient utility received high commendations at the competition.
Prime Minister Holness noted that the innovation is timely.
"As a responsible government and responsible citizens, we have to find ways to address energy costs. What you have done as a social entrepreneur is to find a way to re-use plastic while at the same time providing the product that has great utility particularly for persons who can't afford electricity. This is a good solution and I can see why you would have won," said Mr. Holness.
The CAP entrepreneurship National Competition forms phase one of the programme's entrepreneurship activities. Phase two allows for students to gain international exposure by embarking on opportunities which support skills development while embracing creativity and innovation.
In the meantime, the Prime Minister charged more young Jamaicans to get on board the CAP.
"The Government of Jamaica wants all our young people to be engaged. The strategy is to use energy, innovativeness of our young people to solve the burning social, environmental and economic problems of the day and that is what CAP is about," expressed Mr. Holness.
The Youth Entrepreneurship Summit was held from April 11 to 13, 2018.