Prime Minister Lauds J Wray & Nephew's Environmental Investment Project
---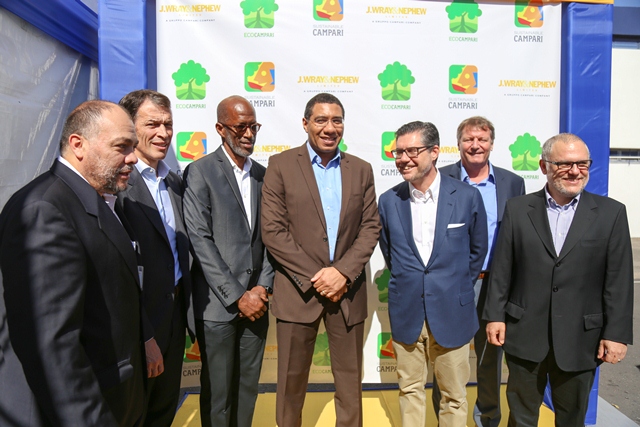 Prime Minister Andrew Holness has lauded J Wray & Nephew for its investment in protecting the environment. The Prime Minister's comments came this morning (Wednesday, January 18), after a tour of the company's 234 Spanish Town Road Operations which has a state of the art solid waste recycling zone, waste water treatment plant and a Photovoltaics system.
Prime Minister Holness praised the company for the critical role in reducing its own cost of energy and environmental impact through the commissioning of the systems. "J Wray & Nephew and the Campari Group are true believers in protecting the environment. I see this as a very good example of good corporate citizenship, of protecting the environment and the implementation of sustainable solutions into your industrial production and I recommend it to all Jamaican industries," he said.
The Prime Minister further noted that as Jamaica moves towards being less dependent on oil, taking advantage of abundant solar power, and actively instituting energy reduction initiatives, augur well for the country to attain its overall energy goals.
"The government is impressed with what has been done and the commitment and investment of the Campari group to ensure continued success while not compromising the environment. They have given a clear indication as good corporate citizens, sustainable development is paramount and they continue to tangibly demonstrate that they believe in Jamaica and envision only best practices in their operations," he added.
Meanwhile, Mr Holness highlighted the key role private sector companies play in achieving economic growth and job creation. Pointing out J Wray & Nephew's investment in tourism with an approximately US$8 million investment to upgrade and renovate Appleton Estate in St. Elizabeth, he said "I am pleased that J Wray and Nephew is showing its commitment to the future of tourism. This investment is expected to not only create additional employment, attract more visitors to the island but will also significantly boost tourism on the South Coast and will provide additional earning opportunities in the form of food, beverage and craft services as we continue to forge linkages across key sectors."
According to Gruppo Campari's CEO, Bob Kunze-Concewitz who unveiled the investments, the combined value of the solid waste recycling zone, waste water treatment plant and a Photovoltaics system is over US$6 million.
–30–
Contact:    Communications Unit-OPM
Tel:   926-0244, 927-4101        Email:  [email protected]/[email protected]
Website:      www.opm.gov.jm  Facebook:  www.facebook.com/jamaicahouse  Twitter:  www.twitter.com/opmjamaica