Intervention by Prime Minister of Jamaica the Most Hon Andrew Holness, ON, MP at the EU-UN Spotlight Initiative High Level Event: Progress and Perspectives on Eliminating Violence Against Women and Girls, UNGA, New York
---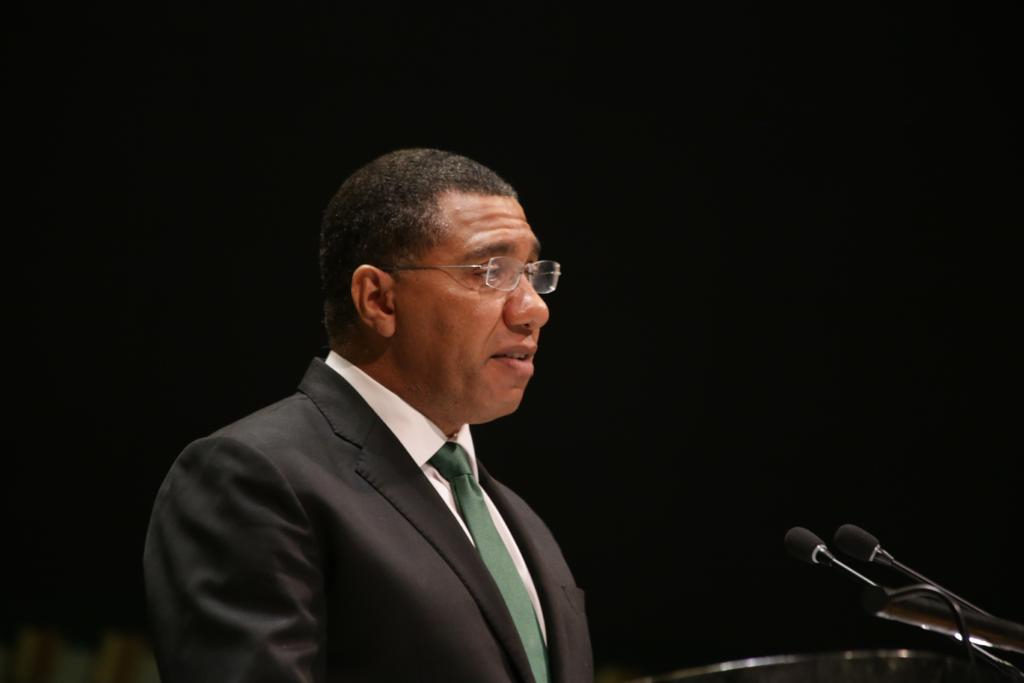 Mr. Chairman,
I join others in commending the European Union for its commitment to partner with others in support of action to empower women and girls.
The 'Spotlight Initiative' has provided impetus for global action to end gender-based violence. The EU's substantial financial allocation to that initiative is evidence of its unquestionable commitment to that goal.
This multilateral partnership forged between the EU, the UN and beneficiary countries for the implementation of the 'Spotlight Initiative', is an excellent model for advocacy on issues of global concern.
Gender-based violence, manifested in violence against women and girls, is an issue we all grapple within our societies.  In Jamaica we are no exception, so tackling this issue is of the highest priority for my Government.
The abuse of, and persistent acts of violence against women and girls: perpetuate a dysfunctional cycle of societal violence,
hinder the economic and social empowerment of women and girls in their daily lives, and;
slow the attainment of Goal Five (5) of the Sustainable Development Goals (SDGs).
They must be addressed with urgency.
The "Spotlight Initiative" is, therefore, a most timely and commendable one, which will undoubtedly improve the lives of not only women and girls but entire communities.
We, therefore, look forward to the finalization of Jamaica's national programme and to its implementation. The 8 million Euro, which has been allocated to Jamaica, is well needed to support the work we are already doing as a nation to deal with the problem and will enable us to do more.
In the interim, we have been taking a strategic and collaborative approach to the issue of gender based violence. We are working assiduously with local and international partners to prevent and to respond to acts of violence against our women and girls.
Steps taken include:
The implementation of the National Strategic Action Plan to Eliminate Gender-based Violence in Jamaica 2017- 2027 including the launch of the first public education campaign last year titled "No Excuse for Abuse".
Along with UN Women, we are building out an island-wide social media campaign to increase the protection of women and girls. At the same time, we are engaging men and boys as key partners in the ongoing programme to provide empowerment.
We [are also building out] [have launched] an online platform aimed at raising awareness on the issue of gender based violence, while also providing a safe space for survivors to share their experiences and seek support.
This year, we made a significant national budgetary allocation for the construction of two nationally owned and operated shelters for abused women and their children.
Mr. Chairman,
As global partners, we have taken action and made some progress but there is much work yet to be done. Continued attacks on our women and girls are a reminder that we cannot be complacent.
We also cannot overemphasize the importance of continued partnerships and collaboration to make this world a safe place for every woman and every girl. Tackling this challenge requires everyone's participation.
Once again, allow me to express our deep appreciation to the EU and the United Nations for their support, as we work together towards achieving this important goal of ending violence against our women and girls.
Thank you.