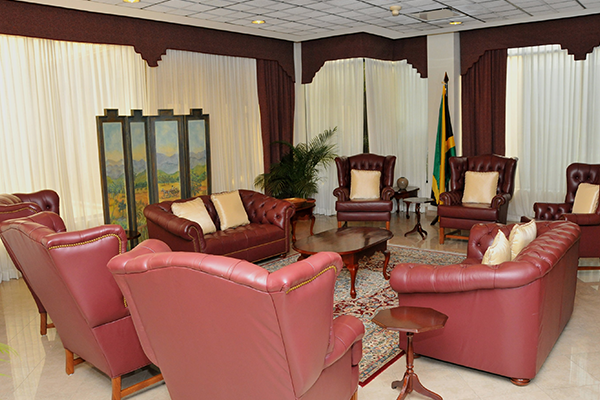 Decoration of Jamaica House began in November 1963 and Interior Decorator, Mrs. Joanne Sibley, was given Twenty Two Thousand Pounds (£22,000 or J$44,000). Bedding, towels and furniture for the family and guest suites were also purchased.
Focus was placed on the Banquet Hall and 160 yards of specially printed gold and white embossed cotton were purchased to make 20-foot drapes. Linen damask table cloths and napkins monogrammed with 'P.M.' were made for the T-shaped dining table, which seated 36. Other items acquired for the Banquet Hall included a 36-piece Chancellor gold and white bone China set, crystal glasses, also monogrammed with 'P.M.' and a canteen of silver.
The replica of the Arms of Jamaica in the Banquet Hall, was carved from mahogany by sculptor, Christopher Gonzalez. Nine (9) plaques with replicas of mahogany and brass pineapples, carved by Alvin Marriot, were mounted on woven straw with decorative lights and set high on the side walls beneath louvered French windows. The chairs in the Banquet Hall were high- backed with pineapple carving and bamboo-shaped front legs. A crystal and silver chandelier, 6 feet in diameter, 6 feet 6 inches tall with 24 lamps hung from the ceiling.
Five (5) other chandeliers were mounted through the House. The chandeliers in the Reception Room or vestibule as well as the two (2) above the stairwells were satin-finished silver plate with tear drop crystals. Chandeliers were also placed in the private dining room and the private stairwell. Lantern-type lamps decorated the walls of the Banquet Hall and the Reception Room.
Most of the furniture used throughout Jamaica House was locally made from native woods such as mahogany, guango and Spanish Elm.