Report delivered by the Prime Minister of Jamaica The Most Honourable Andrew Holness, ON, MP on behalf of the Climate Finance and Carbon Pricing Track
---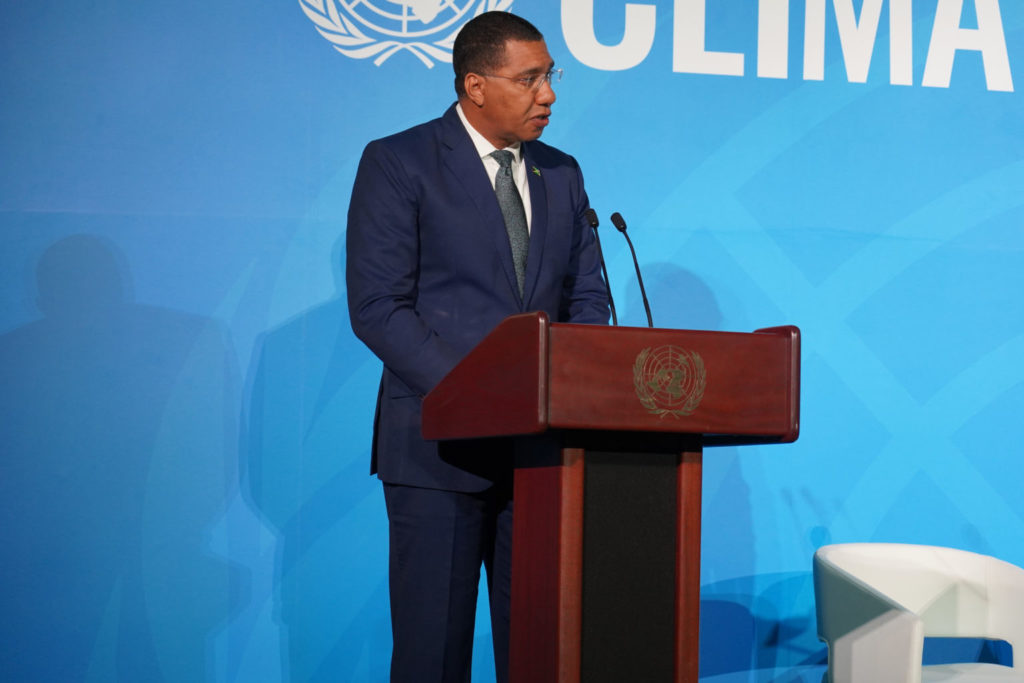 Secretary General: In attention to our mandate to lead a process of climate finance mobilization; we carefully identified and discussed each of the challenges preventing financing from reaching the most vulnerable and embarked on a thorough process of assessment of existing and new initiatives.  I am therefore pleased to report a few of our main achievements:
We collectively encouraged all MDBs to scale-up climate finance ambition from project inception to project delivery, increase finance for adaptation, offer more guarantee instruments, increase private sector leverage and accelerate the deployment of more innovative financing instruments;
We advocated with donor countries for an ambitious replenishment of the Green Climate Fund. Just moments before this briefing we wrapped up a luncheon with over 45 countries, both donor and beneficiaries; and I am confident that as a result new ambitious announcements will be made tomorrow;
We provided the necessary space for the private sector to be part of this conversation, which generated momentum in the development of strong private sector led initiatives to properly align their investments with the Paris Agreement;
We have encouraged four of the most promising initiatives* tackling different aspects of the project value chain, to develop and pilot a collaborative framework for technical assistance, project preparation, investment matching, and de-risking.  These involve key system fixes that will facilitate stronger project pipelines and crowding-in of funding.
This, along with more achievements that France will report to you now, represent a solid package of outcomes that will continue to demonstrate strong forward-momentum and confidence in the months ahead.
____________________________________________________________________________________
**The four initiatives referred in point 3 are:
the Climate Investment Platform (CIP, proposed as a joint undertaking of UNDP, GCF, IRENA, and SE4All) and supported by Denmark;
VERT Infra (the Vision for an Environmentally Robust Transition – Infrastructure, proposed by France, IFC, and OECD);
the initiative on Leadership for Urban Climate Infrastructure (LUCI, proposed by Germany, the Global Compact of Mayors, and the CCFLA); and
the Closing the Investment Gap Initiative (CIG, put forward by Denmark, Canada, and Jamaica).