After 56 Years, It is Time For Jamaica to Reinvent Itself – PM Holness
---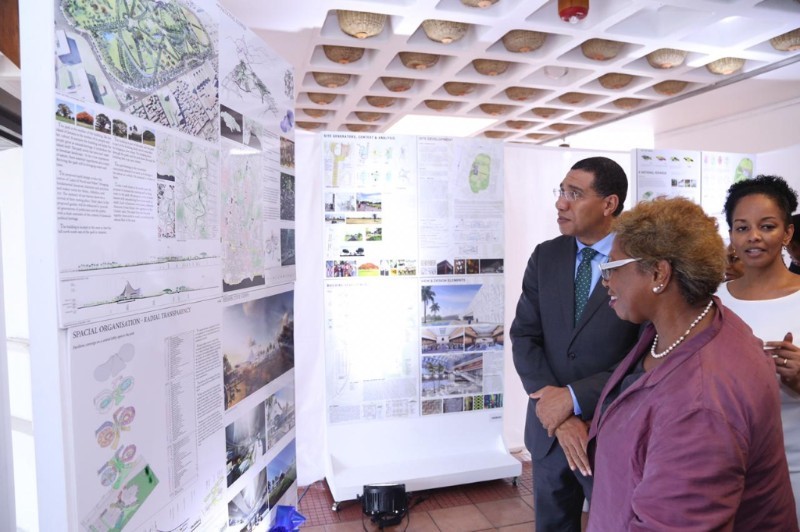 Prime Minister Andrew Holness says it is time for transformative action within Jamaica after 56 years of Independence.
Speaking at the opening of Houses of Parliament Design Exhibition at the Jamaica Conference Centre (JCC) yesterday (October 10), Prime Minister Holness underscored the need for an improvement in Jamaica's infrastructure, buildings and public spaces.
"If it is that we are looking to have order in society, order in public affairs, public order in public spaces then let's start with ordering how we have our buildings looking and feeling. After 56 years, I think it is time that we reinvent ourselves. The rest of the world is moving ahead, and we are living on past glory," said Prime Minister Holness.
The Prime Minister pointed out that in order for transformation to take place, each citizen must develop a sense of appreciation for change.
Highlighting the need for a new purpose-built Parliamentary building; Prime Minister Holness explained that the ongoing design competition was a creative methodology to help determine how the Houses of Parliament building will represent Jamaica's rich heritage.
"The look, role and function of the Parliament building will provide a beacon of leadership that we think is prudent to encourage, nationalism and signal the sovereignty of our people and the empowering of our State to exercise the will of the people of Jamaica," explained Prime Minister Holness
The Prime Minister further stated that Jamaica must be forward thinking especially in an age of globalization.
"Jamaica needs a purpose designed and built Parliament building that will inure to our posterity. It is not for the comfort of the Parliamentarians, it is about making the Jamaican State more effective. This movement is about making the Jamaican State stronger, not to become a prey on the people," stated Prime Minister Holness.
In the meantime, the top five designs selected in the competition were announced during the launch of the exhibition.
The five selected conceptual designs for the final stage were submitted by teams led by Jamaican registered architects. Each team was awarded J$2 million for advancing to stage two of the competition, the ultimate winner will be awarded a further cash prize of JA$5 million when selected by the judges in February 2019.
A total of 24 designs from 178 team members comprising local Jamaican interests and Jamaicans living in the UK, Trinidad, Guyana, America, Argentina, Italy, Canada, Serbia, Turkey and Iran were submitted for judging by the Competition's panel.
The 24 architectural designs are currently on display at the Jamaica Conference Centre through to October 24th. The exhibition will be open between 9:00 am and 4:00 pm, Mondays to Fridays. The public can also view all the entries via the Competition's website and join the online conversation by using the hashtag: #ourjaparliament.
The competition is being managed by the Urban Development Corporation.