Jamaica and China Committed to enhancing Mutually Beneficial Relationship
---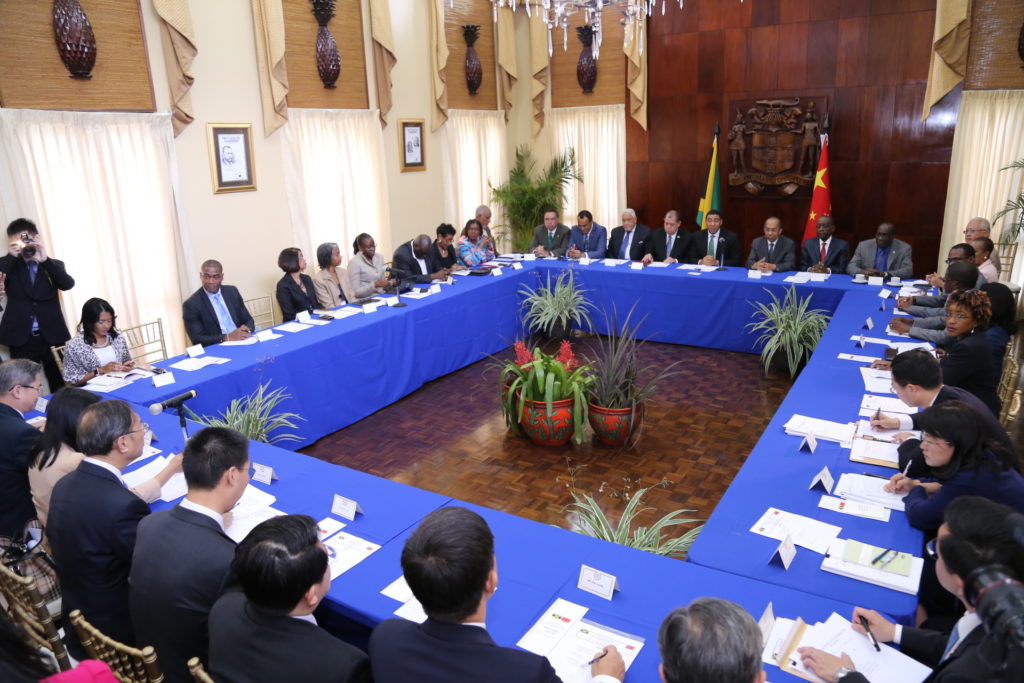 The Governments of Jamaica and the People's Republic of China this morning (September 11) pledged to continue to build on the strategic partnership between both countries.
The renewed commitment comes as the State Councillor and Director of the Central Foreign Affairs Office in China His Excellency Dr. Yang Jiechi met with Prime Minister Holness and members of the Cabinet for a one-day official visit to the island.
Prime Minister Holness says that the relationship between both countries is evolving.
"We will continue to ensure that the projects undertaken between our countries are aligned, not just for our development but for the development of China as well so that the development is mutual," stated Prime Minister Holness.
The prime minister says that Jamaica has benefitted from infrastructural development as well as investment in capacity building from the People's Republic of China.
During the exchange, both parties reaffirmed their commitment to the Framework Cooperation Agreement for production capacity, which Prime Minister Holness said is a very important opportunity for Jamaica.
"We see this as the basis on which Jamaica could expand significantly its manufacturing sector through the production capacity sharing possibilities that come as a result of the framework agreement and we will be pursuing this in a deliberate way. We expect that trade between both countries will increase," emphasised Prime Minister Holness.
The Prime Minister highlighted that there has been significant trade inbound from China and he expects an increase in significant trade outbound to China especially in agriculture and bauxite.
Mr Holness says it is important that development is done through investment flows and not merely loans.
He assured His Excellency Dr. Yang and the Chinese delegation that the Government of Jamaica will provide the fiscal space where investments and development can flourish.
"We want our relationship with China to be a model for the rest of the Caribbean," Prime Minister Holness asserted.
Jamaica has provided ten (10) scholarships for Chinese nationals to study at the premiere Caribbean Maritime Institute.
In the meantime, His Excellency Dr. Yang said Jamaica and China are key development partners.
He added that there has been much progress in the bilateral relationship over the last 45 years and there are opportunities for further growth particularly in sports, culture, business, education, science and other areas.
His Excellency Dr. Yang said China welcomed efforts to foster wider marketing and promotion of Jamaican products particularly Blue Mountain coffee to China.
The State Councillor of China arrived in the island this morning to mark the 45thanniversary of diplomatic relations between both countries. He was accompanied by a twelve (12) member delegation.
The Chinese State Councillor leaves the island today.
—30—
Contact:    Communications Unit-OPM
Tel:   926-0244, 927-4101        Email:  [email protected]/[email protected]
Website:      www.opm.gov.jm  Facebook:  www.facebook.com/jamaicahouse  Twitter:  www.twitter.com/opmjamaica