Jamaica Positions itself to Take Advantage of Nearshoring and Friend-Shoring Opportunities in Economic Zones
---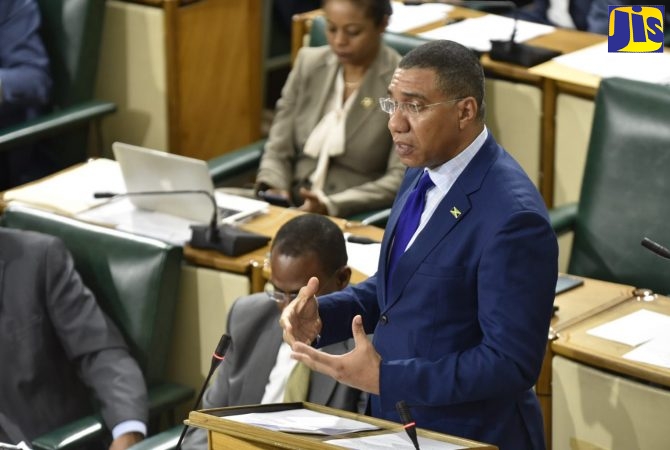 "We want to ensure that Jamaica is a nation full of opportunities for international investors as well as for local entrepreneurs."- Prime Minister Holness
Prime Minister Andrew Holness says Jamaica is taking steps to partner with companies internationally, as the ideal location for nearshoring and friend-shoring as companies and governments start to see the challenges associated with long-distance supply chains.
Speaking today (June 14, 2022) at the 8th Annual International Conference and Exhibition (AICE 2022) in Montego Bay St. James, the Prime Minister noted that with Jamaica located at the intersection of the East-West and North-South trade routes and Kingston Harbour being the 7th largest natural Harbour in the world, "Our ambition is to leverage these natural assets and position Jamaica as the 4th global logistics node, comparable to Singapore, Dubai and Rotterdam."
Prime Minister Holness continued: "We want to ensure that Jamaica is a nation full of opportunities for international investors as well as for local entrepreneurs. Trade and business are a part of Jamaica's culture just as reggae, jerk chicken, and our amazing blue mountain coffee, are good for business."
In this regard, the Prime Minister underscored that Jamaica is actively positioning itself to take advantage of facilitating investments in near-shoring or friend-shoring as free zones are critical to the future growth of the new economy.
"We have made a significant investment in improving supporting transport and telecommunications infrastructure, equipping our workforce for industry needs, and are now strategically positioning Jamaica as globally competitive and efficient. We have invested heavily in key infrastructure assets including our airports, seaports and our road network," said Prime Minister Holness.
Importantly, as the only country in Latin America and the Caribbean with a fully functional national Port Community System, Prime Minister Holness stated that the systems that Jamaica has invested in put the country at the cutting edge of logistics and trade facilitation capabilities.
The Prime Minister said, "The Port Community System was the recipient of the 2021 Maritime Award of the Americas in the category of Digitalization, Automation and Technological Transformation. I want to commend the Port Authority of Jamaica who led the development of the PCS."
In the meantime, as the world experiences a natural thrust towards free zones, Prime Minster Holness encouraged participants to work together to take advantage of the new global opportunities.
The Prime Minister said, "The dramatic increase in freight costs is fueling hyperinflation and supply shortages globally. This crisis is, for now, partially reversing globalization, requiring major producers to source locally, or at least regionally; it is reigniting demand, and the thrust to seek greater fiscal advantages from government and to seek tax-friendly-regimes. It is also creating a demand for neutral, stable predictable spaces to produce, accelerate and promote new regional value chains."
The conference showcased global business leaders, multilateral organizations and policymakers, who shared best practices, it also aimed to spread public awareness through panel discussions, on the roles and contributions that free zones have on economic growth.