National Security Council Adopts Rights Support Measures
---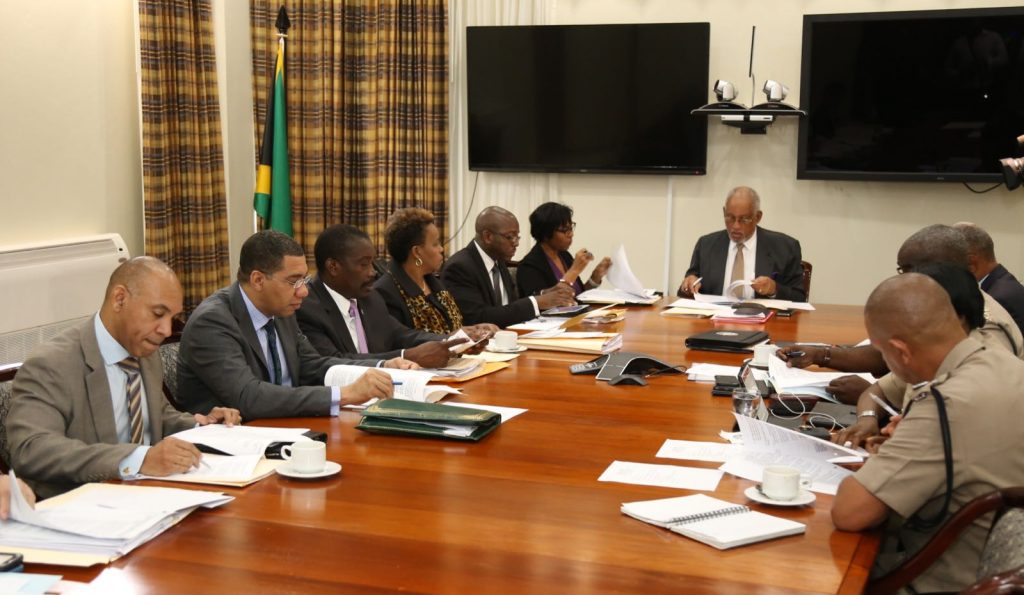 The National Security Council (NSC) has given further policy direction aimed at improving citizen security and public safety whilst maintaining and protecting human rights.
During its monthly meeting held yesterday (March 23) and chaired by Prime Minister Andrew Holness, the NSC examined legislation tabled in Parliament on March 21.
In preparation for the passage of the Law Reform (Zones of Special Operations, Special Security and Community Development Measures) Act, 2017, which was tabled in Parliament by the Prime Minister, the Council agreed that members of the Jamaica Constabulary Force (JCF) and the Jamaica Defence Force (JDF) who could be deployed under the legislation should begin additional training in rights of citizens, observance of human rights and use of force.  This is to ensure that the members of the security forces will operate with a full understanding of the law and with respect for the rights and dignity of citizens.
The NSC noted the ongoing concerns of the public that some members of the security forces continue to undermine the integrity and trust of law enforcement.  Coming out of the discussions, the Commissioner of Police will institute a broader programme of polygraph testing applicable to all members of the JCF, beginning with Area 1 (Trelawny, St. James, Westmoreland and Hanover).
The Council also reviewed the implementation of the zero-tolerance policy with respect to window-tinting of public passenger vehicles and noted that whilst there had been general compliance, a significant number of these vehicles were still in breach.  The public should note that on the expiration of licences for operators of these vehicles, renewal of such licences will only be done if the vehicles are in compliance with the relevant legal requirements, including those in relation to the window-tinting guidelines.
The National Security Council is an organ of the Cabinet, and its members are the Prime Minister, the Minister of National Security, the Minister of Finance & the Public Service, the Minister of Justice, the Minister of Foreign Affairs and Foreign Trade, the Attorney General, the National Security Advisor, the Commissioner of Police and the Chief of Defence Staff, supported by other officials.
–30–
Contact: Communications Unit-OPM
Tel: 926-0244, 927-4101
Email: [email protected]
[email protected]
FB: www.facebook.com/jamaicahouse
TW: www.twitter.com/opmjamaica
Web: www.opm.gov.jm