New Hotel to Offer Further Boost to Employment – PM Holness
---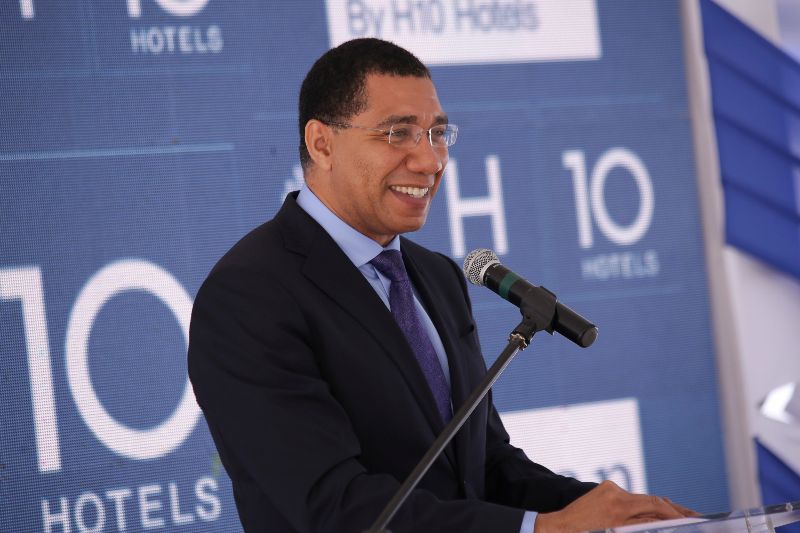 Prime Minister Andrew Holness says the latest Spanish investment in Jamaica will offer over a thousand job opportunities for Jamaicans.
Speaking at the groundbreaking ceremony for Ocean Coral Spring Hotel, Prime Minister Holness expressed gratitude to the Spanish investors for considering Jamaica as the destination of choice for investment.
"In a few months we will have a new resort here of a thousand rooms, but more importantly we will have more than a thousand workers. That means that we would have assisted more than a thousand households in lifting themselves out of poverty and that Is the shared benefit of investment," stated Prime Minister Holness.
The Spanish owned Ocean Coral Spring project is the first in Jamaica and the English-speaking Caribbean.
Prime Minister Holness underscored that with continued investments such as Ocean Coral Spring, Jamaica's tourism will achieve tremendous growth and benefits for all.
"That is what we mean when we say, we believe in inclusive growth and prosperity, not just the kind of investment that turns over money and increases profit but the kinds of investments that can turn around lives and increase the quality of life that people experience. Tourism is doing that in Jamaica," said Prime Minister Holness.
In the meantime, the Prime Minister reiterated the need for greater connectivity in the tourism sector. According to Prime Minister Holness, there must be more inclusivity of the people associated with the industry.
"What contributes toward growth is when the farmer across the road can get his or her products into the hotel to be sold and growth is good for the farmer, it's good for the tourists and its good for the investor. Ultimately the product that you are selling, part of it is the beach, sun, sea, the sand, the safety, the security  but ultimately what you are selling is the hospitality and welcoming face of the people of Jamaica who will embrace your guests lovingly and what we want is for every single Jamaican to feel that they are included in the growth and development of this industry which is all about people," explained Prime Minister Holness.
The five-star resort located on the beachfront in Falmouth is scheduled to open its doors in 2019 -2020 winter season with an additional adult only establishment opening at the end of 2020. The first building will feature 500 rooms while the second aimed at adults only segment will have 440. The resort will operate in an all-inclusive regime.