PM Holness Condemns Acts of Violence against Children
---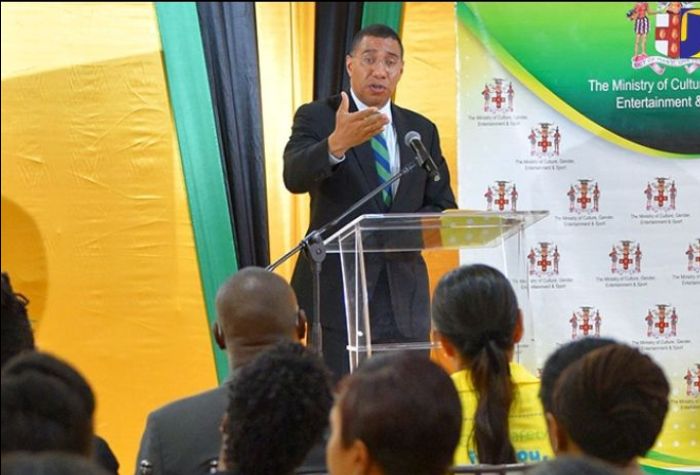 Prime Minister Andrew Holness has called on the nation to condemn child abuse and murders.
Speaking at the Office of the Prime Minister in Kingston on Tuesday (May 7) Prime Minister Holness also condemned acts of violence against the nation's children.
Alluding to the recent murder of 8-year-old Shante Skyers and 11-year-old Trisha Morris, Prime Minister Holness declared that the Government condemns these heinous crimes against children.
He expressed condolences to the families of Shante and Trisha.
"Our children deserve better and they need to know that they are protected and that we have their backs at all times. As a nation, we must actively condemn such heinous acts against our children and my heart goes out to the parents and families of both girls", said Prime Minister Holness.
The Prime Minister said the crimes committed against children is a reflection of the communities and the unwillingness to point out wrong from right.
"It is a reflection on the community, it is a reflection on the entire society that within our midst, there are those who would prey on our children and there are those who would use excuses whether it is cultural or traditional", said Prime Minister Holness.
In that regard, Prime Minister Holness declared that all measures will be taken to ensure the safety and security of the children.
"I wish to give the full assurance that our security forces, our total law enforcement effort will do everything in our powers to ensure that those who commit these heinous crimes are brought to justice. That every case that is brought to our attention of abuse will be thoroughly investigated and those who are accountable will be brought to book", stated Prime Minister Holness.
A study by the former Child Development Agency (CDA) found that on average 10 out of every 1000 children are the subject of child abuse and maltreatment and 68 out of 100,000 Jamaican children are victims of violent crimes.
The Prime Minister was speaking at the launch of Workers' Week and Labor Day under the theme "Child Safety…It's You, It's Me, It's All Ah We".