PM Holness to Co-Chair UN Climate Change Financing Initiative
---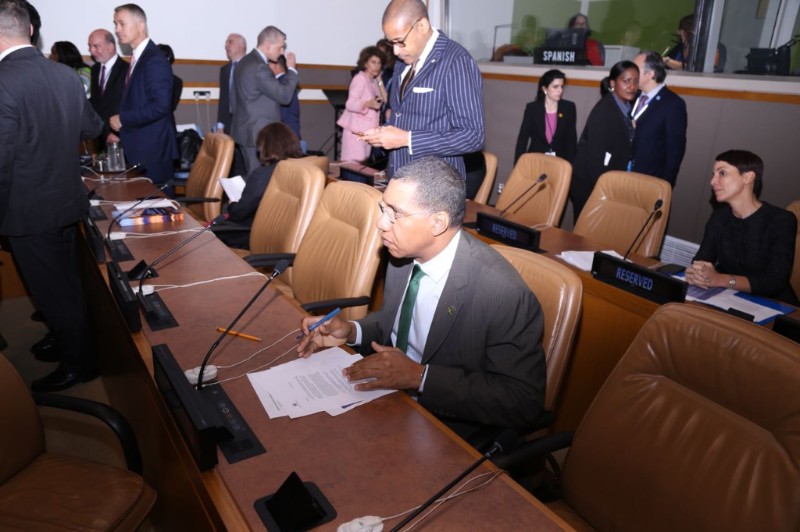 Prime Minister of Jamaica, the Most Honourable Andrew Holness has, together with the President of France Emmanuel Macron, been asked by the Secretary-General of the United Nations, Antonio Guterres, to lead a political initiative to mobilise Climate Financing to support the implementation of the Paris Agreement.
The invitation to mobilize Government and private sector to build a political consensus and increase momentum to raise $100 billion per year in climate finance by 2020 was outlined in a letter to Prime Minister Holness, in which Secretary-General Guterres noted the leadership of Jamaica on the issue of climate finance.
The UN Secretary General said the funds are needed to address the mitigation and adaptation needs of developing countries and reminded that within the context of Paris Agreement, developed countries reaffirmed the pledge made at the UN Climate Change Conference in Copenhagen in 2009 to mobilise $100 billion per year by 2020, from a combination of public and private sources.
At a High-Level Meeting of twenty Heads of Government yesterday formalising the engagement, the UN Secretary-General, António Guterres, in his remarks, said the efforts of all who participate in the process of building awareness and resilience is very important to ensure that the world does not experience runaway climate change.
In his intervention, Prime Minister Holness welcomed the opportunity and pledged to work with other countries and the private sector to ensure that the targets are met.
Prime Minister Holness also spoke of the importance of not only securing the funding but also securing access for small developing states like Jamaica and the Marshall Islands (whose President was also present). He urged world leaders to contemplate how countries who are to a great extent, not significant contributors to climate change, are the most vulnerable to its impact and have the least capacity to respond to its challenges.
Prime Minister Holness encouraged them to keep in mind that both availability and access to funds are issues which must be addressed, while noting that leaders of developing countries also have the responsibility to be climate smart and transformative.
The Prime Minister is currently in New York at the UN Headquarters for the 73rd Session of the United General Assembly (UNGA)