Prime Minister Says the Country is Committed to Reduce Road Crashes by 50% by 2020
---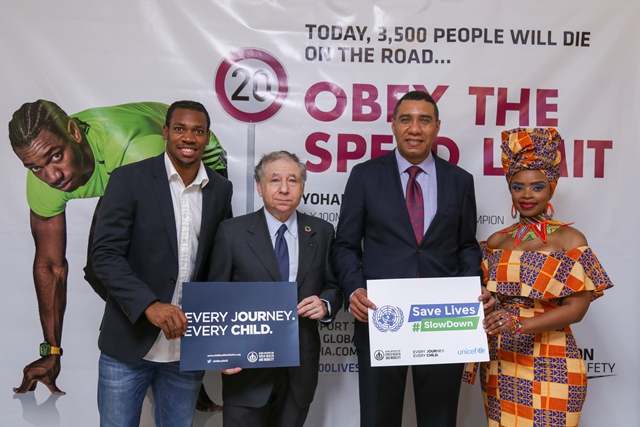 Prime Minister Andrew Holness who is also Chairman of the National Road Safety Council, says the government is committed to reducing road crashes in Jamaica by 50 per cent by 2020.
Prime Minister Holness made the pledge today (May 10) during a #SlowDown event, as part of activities to commemorate the 4th United Nations Global Road Safety Week at the Office of the Prime Minister.
"Road safety is a priority for Jamaica. The government is making the commitment today, to reduce road crashes by 50 per cent by 2020. The public can look for a new Road Traffic Act that has safety features. These features will ensure that motorcyclists and pedestrians are visible while utilizing the roadways", explained the prime minister.
The Road Safety Council Chairman revealed that since the start of the year, up to May 5, 184,566 road traffic tickets have been issued. This represents a 24% increase over the same period last year. He also added that 313 motorcycles have been seized since the start of 2017.
Ahead of the launch, Prime Minister Holness signed an Open Letter urging action on reducing and enforcing traffic speeds to a level safe for children in Jamaica, as well as prioritising low- speed zones in residential areas and near schools.
"Jamaica is seeing some reductions. We want to see it sustained. We want to see a systematic reduction in road traffic crashes and deaths. We are on an exercise to improve our roadways. We are building highways with better road surfaces. I have given a directive to the National Works Agency, NWA to build roads with safety features", said Mr Holness.
He added that, "there will be the implementation of technology in managing traffic. Very soon we will see camera systems for ticketing and tracking the speed of motor vehicles across Jamaica."
The prime minister was joined by road safety Ambassadors Yohan Blake, Zoleka Mandela and Jean Todt, UN Special Envoy for Global Road Safety Week.
The UN Global Road Safety speed management campaign calls for urgent action around speed management to reduce road traffic deaths and injuries by 50 per cent by 2020.
The target, established under the World Decade of Action for Road Safety, was proclaimed by the United Nations General Assembly and commenced in 2011.
The 4th United Nations Global Safety Week is being observed May 8-14 under the theme "Save Lives; #Slow Down."
–30–
Contact: Communications Unit-OPM
Tel: 926-0244, 927-4101
Email: [email protected]
[email protected]
FB: www.facebook.com/jamaicahouse
TW: www.twitter.com/opmjamaica
Web: www.opm.gov.jm