Government Moves to Modernize Jamaica
---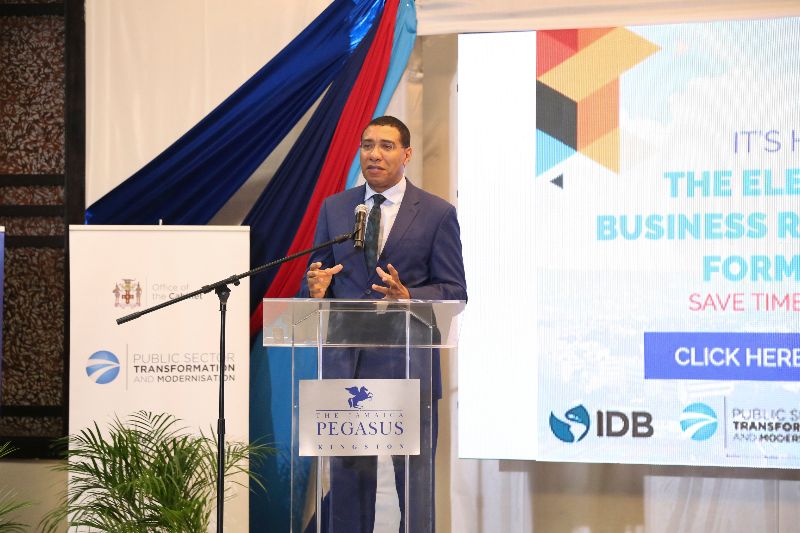 Prime Minister Andrew Holness has asserted that the Government has not given up on the National Identification System (NIDS).
The Prime Minister says the faster the Jamaican society embraces the imminent move to a digital society, more advantages will be realised.
The Prime Minister made the comments earlier this week (August 7) during his keynote address at the launch of the Electronic Business Forum at the Jamaica Pegasus Hotel.
"The Fourth Industrial Revolution in which we are is all about how you manage information and data and leverage that innovation. The innovation with data now is how Governments can use it to better serve their populations. One of the things that we want to do is to give every citizen an identity, it is not about stealing your identity or exposing your Identity, but we need to know who you are. You need to be assured that when you present yourself that you are known, you are acknowledged, and you can get service," said Prime Minister Holness.
In that regard, the Prime Minister stated that the Government continues to do the background work necessary to have NIDS work effectively. He noted that the Government is putting in the infrastructure to facilitate a seamless exchange of information between Government agencies.
"We are moving ahead with that to ensure that the technology is in place, the equipment is in place, the Government intranet is in place, and then we will be able to resolve in short order the form in which the National Identification System will take place. We have a form already; we just need to approve it and get it back on the Parliamentary agenda. Hopefully, it will be satisfactory to our court, but I am committed to ensuring that Jamaica leapfrogs the digital divide," said Prime Minister Holness.
Prime Minister Holness highlighted the deliberate steps the Government has been taking to integrate technology in its daily operations by employing interns though the Housing Opportunity Production Employment (HOPE) Programme.
According to the Prime Minister, the Government has developed a digitization core putting the interns on the frontline of the integration of technology.
"They (the HOPE Interns) are the ones working with the paper to migrate the data embedded in paper documents into a portable digital format. They were working at the NHT scanning several thousands of documents, they were at the Island Traffic Authority scanning millions of documents, in fact, they have completed several years backlog of paper-based motor vehicle documentation," said Prime Minister Holness.
The Prime Minister further stated that the uploaded content can be used to populate databases, providing information which puts the Government in a better position to make decisions.
In the meantime, the Prime Minister commended the Companies Office of Jamaica, for making the process for registering a business easier through digitization. He noted that this has increased the potential for local and international businesses investments in Jamaica.