Prime Minister Holness Meets with Premier of the Cayman Islands
---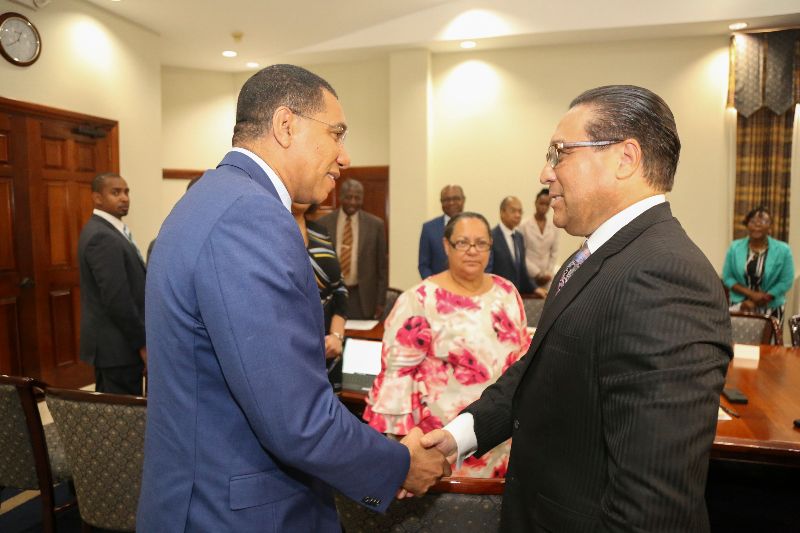 Kingston, Jamaica:
Prime Minister Andrew Holness earlier this week (August 7) held discussions at the Office of the Prime Minister, with a high-level delegation from the Government of the Cayman Islands, led by Honourable Alden McLaughlin, Premier and Minister for Employment and Border Control; Community Affairs and International Trade, Investment, Aviation and Maritime Affairs.
The delegation visited Jamaica to strengthen cooperation in several areas. They also attended the 67th staging of the Denbigh Agricultural and Industrial Show.
The leaders spoke on cooperation in the areas of travel, air services, agriculture, tourism, environmental sustainability, maritime issues, energy cooperation, education, training and trade.
Prime Minister Holness noted that Jamaicans are most interested in accessing a more liberal travel arrangement to the Cayman Islands, which remains a British overseas territory.
Both Prime Minister Holness and Premier McLaughlin have agreed to ensure plans are developed to improve travel between the neighbouring states.
In the areas of trade and agriculture, the Government of the Cayman Islands is seeking to look at increased opportunities particularly in the area of  livestock from Jamaica.
Jamaica also agreed to lead and assist in the area of tourism resilience training through the Resilience Centre. Additionally, linkages will be made in order for discussions in the areas of technical and vocational training partnerships to be explored.
The Cayman delegation left the island on Thursday.