Jamaica & US Officials Hold Bilateral Talks on Trade, Investment and Security
---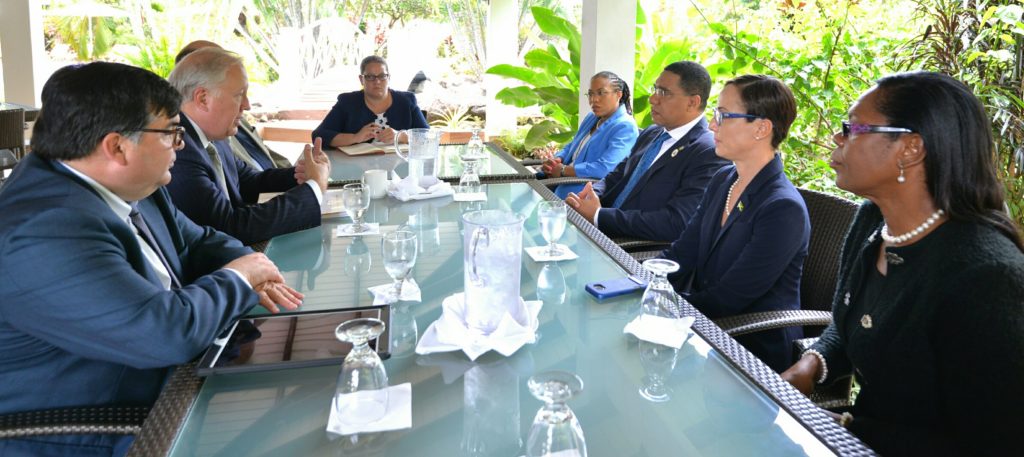 Prime
Minister
 Andrew Holness today (July 6) held discussions with 
of
ficials from 
the
 Government 
of
the
 United States 
of
 America led by 
the
 Acting US Deputy Secretary 
of
 State and Under Secretary for Political Affairs, Thomas Shannon.
Jamaica and the US have several multilateral and bilateral agreements in a wide range of areas including trade, investment and security. Today's talks were held amid efforts to strengthen the bilateral ties between both nations.
Prime Minister Holness and the Acting Deputy Secretary of State Shannon spoke on ways to deepen efforts to make the relationship between both countries more relevant.
In that regard, the discussions focused on trade, investment, safety and security.
The Prime Minister noted that Jamaica is taking steps to ensure that its fiscal management system is in order.
"Jamaica is a textbook case of a country engaged in good fiscal management. We are now ensuring that those are embedded into our laws and practices. We are at this point transitioning into growth strategies, and I think that is where stronger engagement with the US could be beneficial. I think once we address the growth conundrum then we should be able to effectively address the other issues of crime, violence, safety and security," explained Mr Holness.
Prime Minister Holness acknowledged that Jamaica faces challenges in the area of crime. However, he expressed the hope that Jamaica and the US can strengthen cooperation in this regard.
He said a major point for discussion going forward should be border security while noting that Jamaica has made investment in this area.
"The strategy has to be about strengthening Jamaica to control its own borders. We have taken instrumental steps to increase border security and integrity and to ensure that security is a priority. Jamaica has made significant investments in this area," continued the prime minister.
Mr Holness noted that Jamaica remains concerned with the entry of illegal weapons into the country.
"Ninety percent 
of
 crimes in Jamaica are committed with a weapon; mainly guns. Our murder rate is increasing because 
of
 ease 
of
 access to weapons. We are taking steps to control entry points. This is an area we can have meaningful and relevant cooperation with 
the
 US," concluded 
the
prime
minister
.
The Foreign Affairs and Foreign Trade Minister Senator Kamina Johnson Smith was also in attendance at the bilateral talks which took place at the Raddison Hotel in St. Georges Grenada.