Minister Vaz Delivers Approval Permits at ATL Autobahn Kingston, Ground Breaking Ceremony
---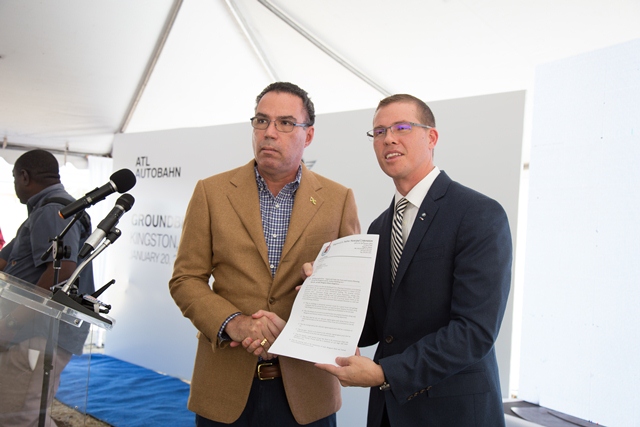 Minister without Portfolio in the Office of the Prime Minister, Daryl Vaz, today (January 20), delivered building approvals and permits at the ground breaking ceremony for the new state of the art BMW show room and an AC Marriott hotel which will be constructed on Lady Musgrave Road in St. Andrew.
Minister Vaz made the presentation to Adam Stewart, Deputy Chairman and CEO of ATL Automotive Group & Sandals Resorts International who will be the local partner to build and manage the facilities.
Minister Vaz stated that "as a proactive government, and minister, the building approvals were done and presented as we would never have wanted one day to pass between the ground breaking and the start of construction."
He said the timely delivery of the approval documents is part of government's commitment to improve the ease of doing business in Jamaica.
Minister Vaz commended the Agencies, within the Ministry of Economic Growth and Job Creation, and the Kingston and St Andrew Corporation (KSAC) for their proactive approach in having the documents prepared.
This move signifies the government's commitment to comprehensive reform of government to reduce bureaucracy in an effort to improve the business environment.
The AC Kingston will offer 220 rooms over seven stories – total of over 146k square feet of space across all floors; a state of-the-art BMW showroom; a Beauty-and wellness salon; car rental facility and "The Avenue," a promenade of indoor and outdoor event space and retail and dining outlets including a fine-dining sushi and seafood restaurant and well-known coffee bar.
–30–
Contact:    Communications Unit-OPM
Tel:   926-0244, 927-4101        Email:  [email protected]/[email protected]
Website:      www.opm.gov.jm  Facebook:  www.facebook.com/jamaicahouse  Twitter:  www.twitter.com/opmjamaica