PM Holness Moved by Story of Tahj Rowe and Makes Personal Donation
---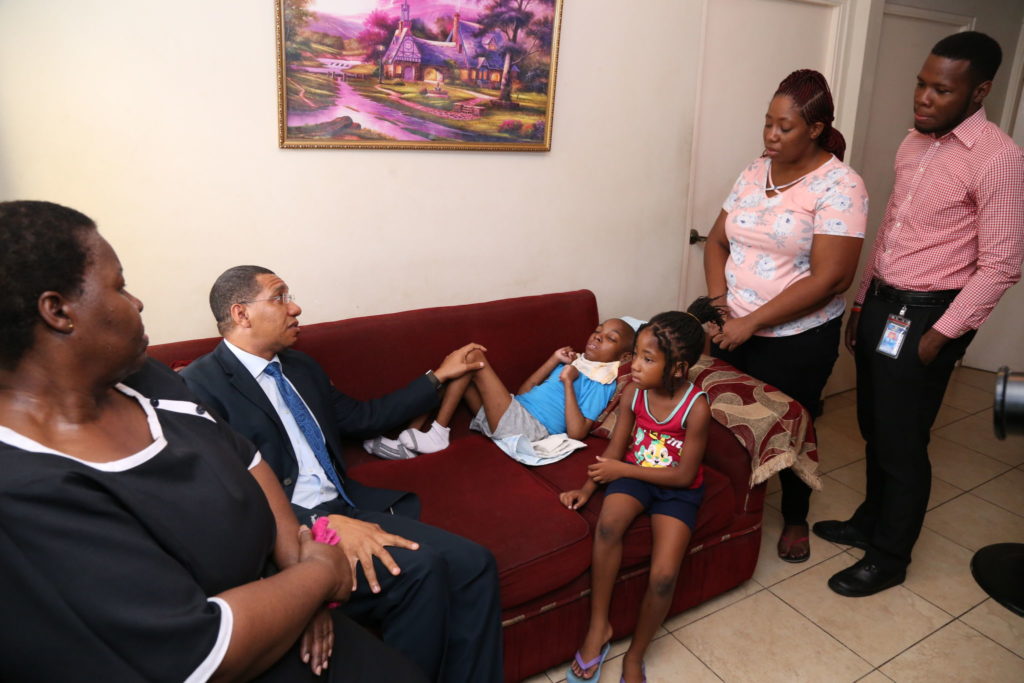 Prime Minister Andrew Holness today (July 10) made a personal donation to the family of fourteen year-old Tahj Rowe.
Young Tahj suffered brain damage during his birth at the Victoria Jubilee Hospital. His story was featured in the press two days ago, as his family faces delays in the Court case against the Government which has spanned almost 14 years.
Prime Minister Holness said upon reading the story, he was deeply moved.
The Prime Minister said despite the Court case, he had to see Tahj and personally do something.
"I was particularly moved because in my family, when I was growing up I had a family member who had a similar challenge and I am well aware of the challenges that families would face to support, maintain and care for persons with such disabilities, so I was very moved to reach out to the family," said Prime Minister Holness.
PM asks for current AG to examine the case
The Prime Minister has tasked the Attorney General to examine the case while the Ministry of Justice has been asked to do what it can to speed up this process.
The Prime Minister said there must be an avenue established in the State that takes care of those most vulnerable.
"There is a sense that has to be built, that we care for persons who are marginalised, less fortunate, vulnerable and so the state bureaucracy has to follow the law and has to try and perfect the law – and the Attorney General's Department has that duty and they are following that. But it can't be to the expense of compassion – I have [that] duty to give a direction to the State that we must be compassionate and caring about our citizens and I have to lead by example in that regard," stressed Prime Minister Holness.
In the meantime, Yvonne Beckford, Tahj's grandmother expressed appreciation to the Prime Minister for his visit and donation.
"It's the first time someone actually take time out to come and assist us with anything and I'm grateful," said Ms. Beckford.