Prime Minister Holness Calls for Greater Commitment from the EU in Haiti Crisis
---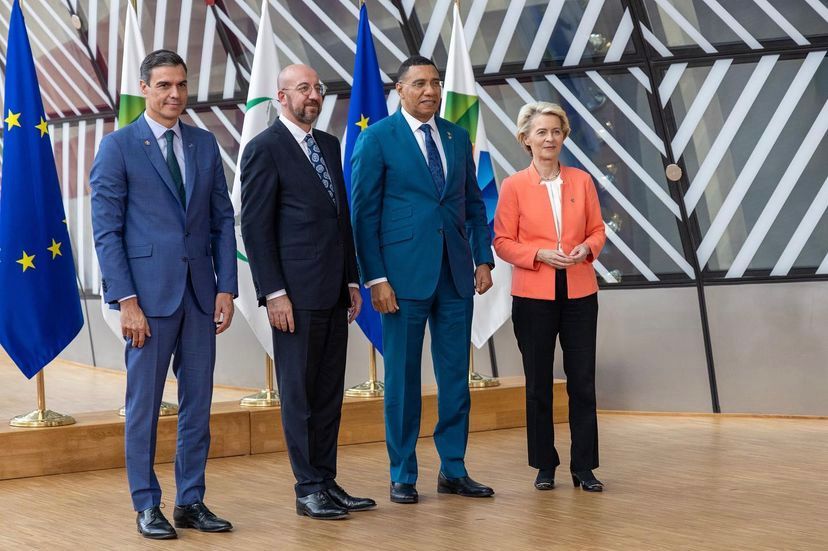 "It is crucial that the international community commits to implementing strategic and targeted action that will allow Haitians to go about their daily lives and for the political process to make concrete progress."
– Prime Minister Andrew Holness
Prime Minister Andrew Holness has emphasized the urgent need for collaboration and international support to address the deepening crisis in Haiti.
Speaking at the EU-Caribbean Leaders Meeting today (July 17, 2023), Prime Minister Holness stated that the recent earthquake, flooding, and prevailing political and economic turmoil have exacerbated the challenges faced by the Haitian people, particularly women and girls, due to gang violence and widespread insecurity.
Prime Minister Holness highlighted the importance of immediate action to alleviate the suffering and create a lasting solution, which should be Haitian-owned and Haitian-led.
He stressed, "The insecurity in Haiti is well-known and has impeded access to healthcare, education, and other basic goods and services. It is most certainly undermining efforts for a lasting solution, which the ordinary Haitian people desperately want."
During the CARICOM Heads of Government in Trinidad and Tobago, earlier this month, the issue of the security situation in Haiti was discussed.
Reflecting on the discussions, Prime Minister Holness said: "We agreed on an immediate need for a Humanitarian and Security Stabilization Corridor under the mandate of the UN Security Council. For this to materialize, we need an urgent decision by the Security Council, reinforced by the support of the international community in financing its establishment and providing the necessary human and other resources."
Acknowledging the extension of the UN's mission in Haiti, BINU, and the Secretary General given 30 days to develop a security plan to address gang violence, Prime Minister Holness regarded this as a small but positive step that requires urgent implementation.
In light of the humanitarian and security challenges facing Haiti, Prime Minister Holness called on the European Union (EU) to consider contributing to the financial resources necessary to alleviate the crisis. He also appealed to its member countries to play a more active role in addressing the crisis.
In the meantime, CARICOM, through its 'Good Offices' role, aims to foster consensus among Haitian stakeholders and facilitate a way forward. Prime Minister Holness said, "These talks, while not conclusive, allowed for the relevant parties to discuss openly, matters of interim governance and transition."
The Prime Minister also underscored the urgency of implementing strategic and targeted actions that enable Haitians to lead their daily lives and allow for concrete political progress.
As Haiti strives to overcome its adversities and build a promising future, Prime Minister Holness is urging the international community to take immediate action in bringing hope, peace, stability, and prosperity to a nation that has endured prolonged suffering.