Reject The Dons, They Are Not Robin Hood, They Are Criminals! – PM Holness
---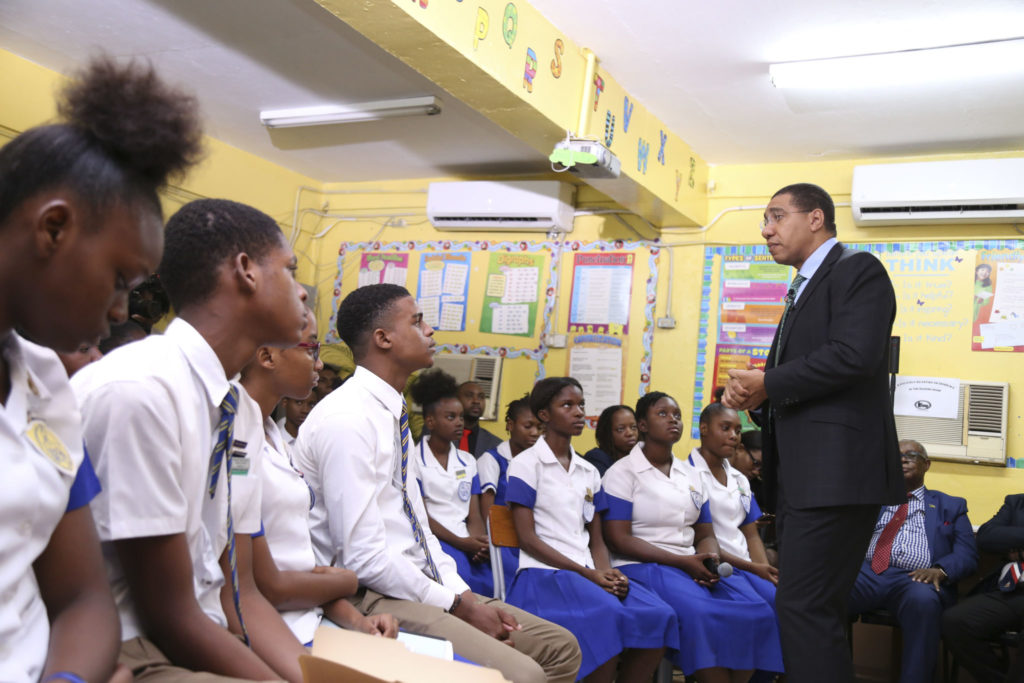 Prime Minister Andrew Holness says Jamaicans must reject dons and gang leaders within their communities.
Addressing students of the Penwood High School in West Central St. Andrew today (Tuesday, November 6) the Prime Minister declared that for Jamaica to change its status as one of the murderous countries in the world, the don culture must be repudiated.
"The dons are illegitimate, evil, corrupt and we must get them out of our society and until we have this very strong, empowered youth who have that view, then the gang members will always feel like they have a little protection in their community. They must have no protection in their community, they are not Robin Hood, they have not served us. They are criminals, that's what they are and that's what we must call them," said Prime Minister Holness.
The Prime Minister further underscored that there should be robust cooperation between the citizen and the police.
"You as good citizens should cooperate with the police and give as much information as you have on these criminals. It is the right thing. It is the honourable thing. It is the good thing to do (and) that is the only way that we are going to turn the tide of criminality in this society. It is an uncomfortable truth, but it has to be done," said Prime Minister Holness.
Noting the general view that there is corruption within the police force, Prime Minister Holness made clear the Government's position on the matter.
"The policy of the Government of Jamaica at this time is to provide you, the good citizen of the country with a police force; a security apparatus that is of the highest level of integrity and we are working assiduously towards that," declared Prime Minister Holness.
In that regard, the Prime Minister vowed to remove those lawmen who work with dons.
"Those policemen who associate with dons, who are on the payroll of dons and gang leaders, we (are) going to get rid of them because your advancement is being withheld by the corrupt policemen who associate with dons," said Prime Minister Holness.
In the meantime, The Prime Minister stressed the importance of developing a sense of civic awareness that is not only academic but practical in resolving the negatives affecting the country.
In his closing remarks, Prime Minister Holness encouraged the students to be empowered to stand against the ills within their community and to also act as their brother's keeper.
"The Jamaican that we want to create is not just someone who is personally motivated to achieve their own goals and objectives but they are also very concerned about the society and how the society is progressing," said Prime Minister Holness.