Rule of Law, Violence and the Environment to be addressed by National Partnership Council
---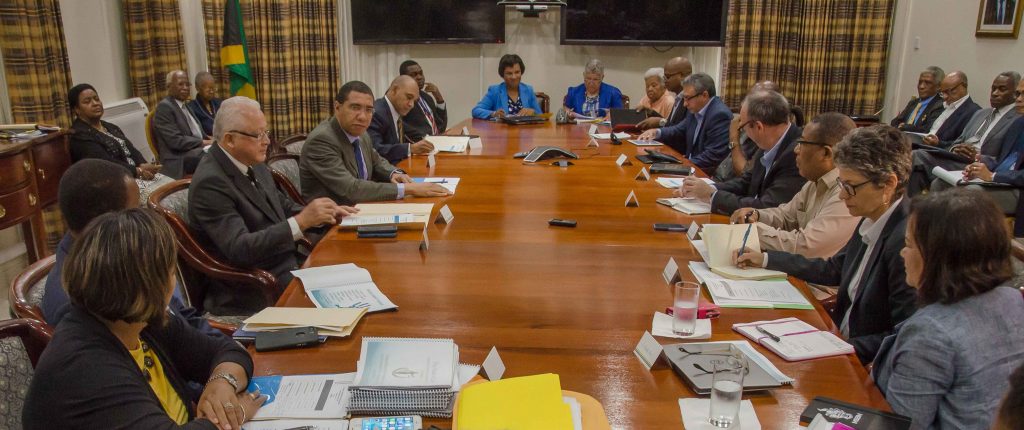 Three new sub committees have been established in the National Partnership Council, to address the rule of law, violence in the society and issues relating to the environment.
This was revealed yesterday (February 23) during a meeting of the Council chaired by Prime Minister Andrew Holness.
The Prime Minister recommended that specific committees be formed to address the issue of crime following presentations from council members. Council members expressed concerns about the level of crime in the society and projected ideas to assist in tackling the issue.
Prime Minister Holness welcomed Anthony Hylton, who represented the Opposition to the table.
"Jamaica has always had a strong social partnership and I am committed to ensuring that this partnership is strengthened and maintained. We are very happy that the Opposition is at the table, to hold the Partnership Council accountable and to be facilitators of the understanding that we are trying to build in the country," said Prime Minister Holness.
The Council gave formal approval for the re-appointment of two existing committees; the Coordinating Committee, to be led by Hon. Derrick Smith and the Governance Committee to be led by Reverend Lenworth Angling.
This was the first meeting of the Council following the signing of the Partnership for a Prosperous Jamaica (PFPJ) Agreement in December last year.
–30–
Contact: Communications Unit-OPM
Tel: 926-0244, 927-4101
Email: [email protected]
[email protected]
FB: www.facebook.com/jamaicahouse
TW: www.twitter.com/opmjamaica
Web: www.opm.gov.jm