St. Elizabeth Communities Receives First Ever Flow of Piped Water
---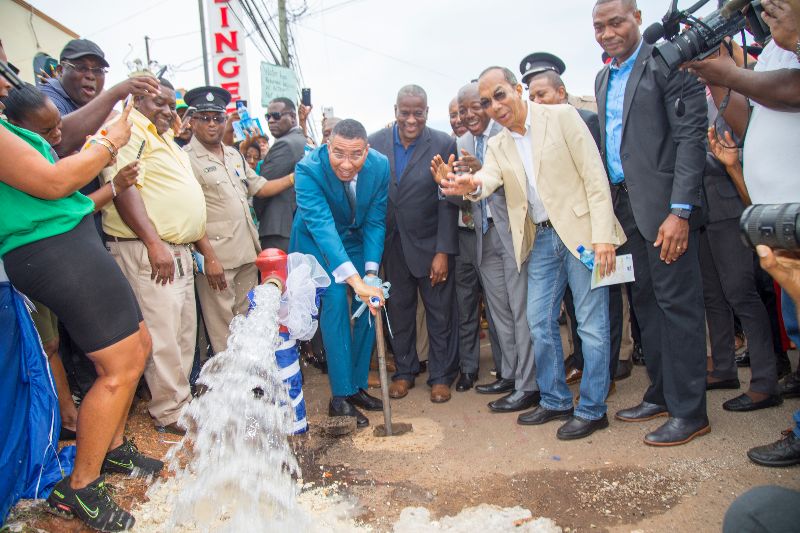 History was created in Junction St. Elizabeth on Wednesday as the Government commissioned the first ever piped water system in the parish.
Prime Minister Andrew Holness opened the pipelines to the historic Essex Valley Water Supply Project in Junction square, which will serve more than 3,000 households.
According to Prime Minister Holness, non-revenue water has put a strain on the
The Essex Valley Water Supply Improvement Project is one of 41 major water and wastewater projects that the NWC took into the 2019/2020 financial year at a cost of $630 million after completing 27 projects or contracts in the last financial year.
"We value you and we are putting the money where our value is. Help us maintain the service, help us to ensure that the cost is affordable to everyone by each contributing to paying your bill. Conserve on the use and pay your bill so that we can keep the water utilities service at a reasonable cost," said Prime Minister Holness.
The Prime Minister further stated that residents should see an improvement in supply efficiency and reliability which will eliminate the need for trucking.
"By making this investment we will see improvements in operational efficiency and energy saving. This ultimately means a better quality of life for the communities in Junction, Bull Savannah, Nain, Warminster, Gazeland, Myersville, Comma Pen, Dunder Hill and Cheapside – this is good news, this is prosperity," said Prime Minister Holness.
In the meantime, Prime Minister Holness reiterated the government' proactive steps toward making Jamaica a better place.
"When you hear me on your radio or follow me on your social media, I am doing something, I am marking something new being added to value Jamaica. So is either we [are] building more houses, we [are] breaking ground for some new agricultural development, we [are] opening new hotels, we [are] opening new roads, new water supply and new bridges to bring the people to prosperity.
So, we are not just talk, we are action. We [are] not just preaching politics, we [are] preaching a better way of life,' stated Prime Minister Holness.