Strong Bilateral Relations between EU and Jamaica
---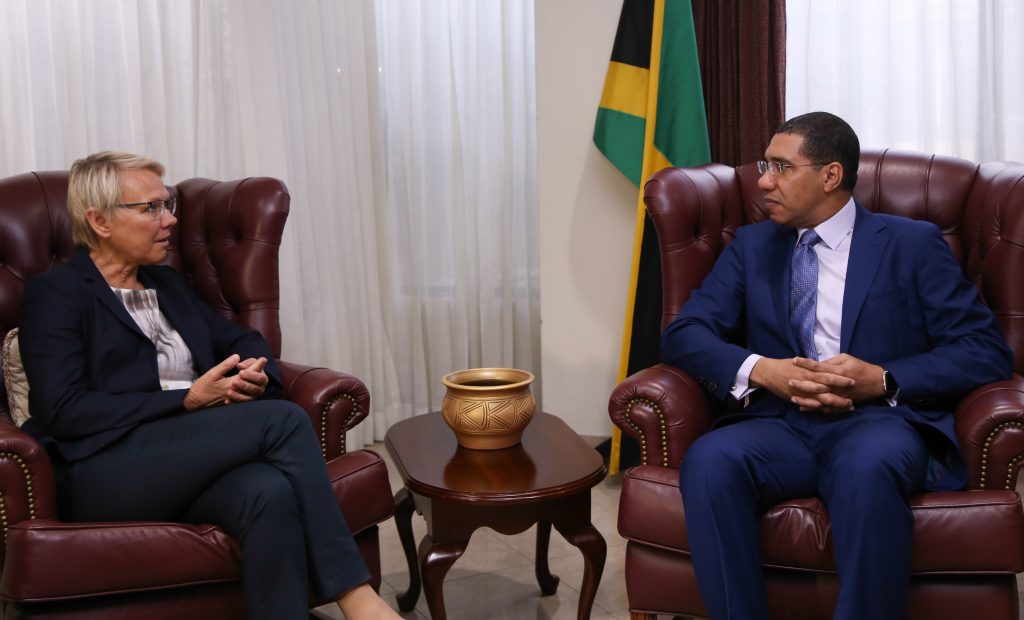 Prime Minister Andrew Holness has emphasized Jamaica's strong and long standing relationship with the European Union (EU) in a meeting this morning (December 14) with EU Ambassador to Jamaica Malgorzata Wasilewska.
The Prime Minister and Ambassador Wasilewska spoke on many areas of support and partnership established over the years between Jamaica and the EU.
Prime Minister Holness noted that the government will continue to develop strong ties with the 28 countries of the EU. He also highlighted Jamaica's focus on economic growth and job creation as a means of transforming the society. He further reiterated the country's commitment to reducing crime and violence and outlined several government initiatives as part of Plan Secure Jamaica.
Meanwhile, Ambassador Wasilewska pointed out EU's strong contribution to justice and issues related to the development of Jamaica. In addition, she expressed support to the administration's interest in promoting transparency, women's rights and its focus on social development.
The Prime Minister and Ambassador Wasilewska pledged to collaborate closer to fine tune areas of mutual interest between Jamaica and the EU. He also thanked the EU for being a significant partner and largest provider of grant funding to Jamaica.
–30–
Contact:    Communications Unit-OPM
Tel:   926-0244, 927-4101        Email:  [email protected]/[email protected]
Website:      www.opm.gov.jm  Facebook:  www.facebook.com/jamaicahouse  Twitter:  www.twitter.com/opmjamaica