Government Continues to Pursue Major Development Projects – Contract for Constant Spring Road Improvement Project Signed
---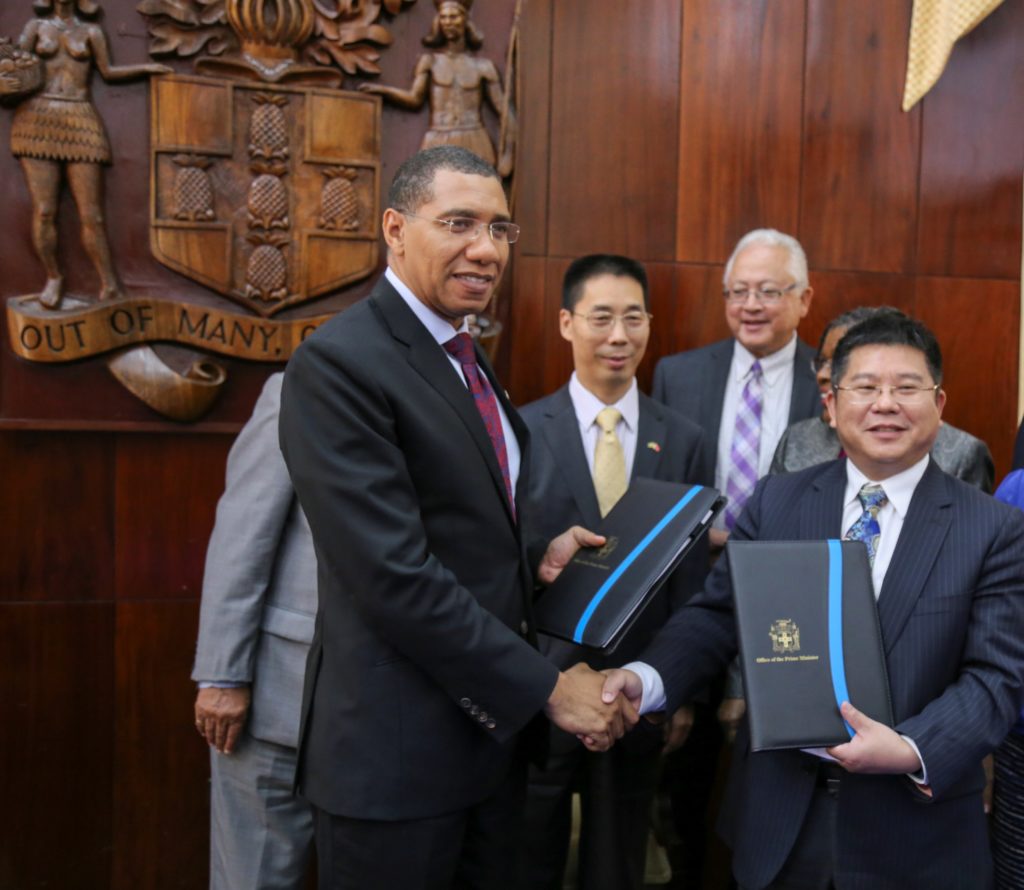 The major Constant Spring Road corridor is to be improved from its current structure to a four lane roadway.
The infrastructure programme is part of the Government's continued pursuit of its national development agenda to improve the country's road network.
Prime Minister Andrew Holness and the contractors China Harbour Engineering Company (CHEC) yesterday (Tuesday December 5) signed a contract at Jamaica House for improvement works to be done to the roadway.
The proposed programme of works to be carried by the National Works Agency in partnership with CHEC is slated to cost US$19 million.
"It is critical to our overall plan to improve commuting within the city of Kingston but between Kingston and the adjoining parishes. The Constant Spring road literally connects air and seaports to the tourism dependent parishes of St. Mary and Portland", explained Prime Minister Holness.
The project is aimed at improving the quality of the roadway from Norbook Drive to Red Hills/Eastwood Park intersection.
Currently some 30,000 vehicles use the two lane corridor carrying approximately 1,600 vehicles per hour. This is expected to double after the completion of the project.
Prime Minister Andrew Holness pointed out that the project is not just an infrastructure development project for Kingston but will also result in ease of travel to the north eastern section of Jamaica. He said this will open up development opportunities for the area.
"We are expecting that in conjunction with the road development we will start to see development of housing and commercial real estate in that area," added the Prime Minister.
In keeping with the government's standard approach to major development projects, the opportunity will be taken to upgrade the storm water drainage system along the roadway as well as install new sewer and water lines.
"We are taking this important step which is becoming the norm in executing infrastructural projects across the country. We want to have all-round improvements so it's not just about the road, but more efficient potable water and sewage systems", said Prime Minister Holness.
Prime Minister Appeals to Motorists to Use the Roadways Safely
In the meantime, the Prime Minister used the opportunity to appeal to motorists to use the roadways safely, especially during this Christmas season.
"I encourage all Jamaicans at this time of the year to use our roads safely. We are not making them smoother and wider for them to become race courses. We want you to get where you're going fast enough but more than that we want you to get where you are going alive. So we encourage all Jamaicans to take care, on our roads", he urged.
The Constant Spring road improvement project is the fourth of six legacy projects that will be implemented under the government's Major Infrastructure Development Programme (MIDP).
–30–