Government launches Global Partnership to End Violence Against Children Campaign
---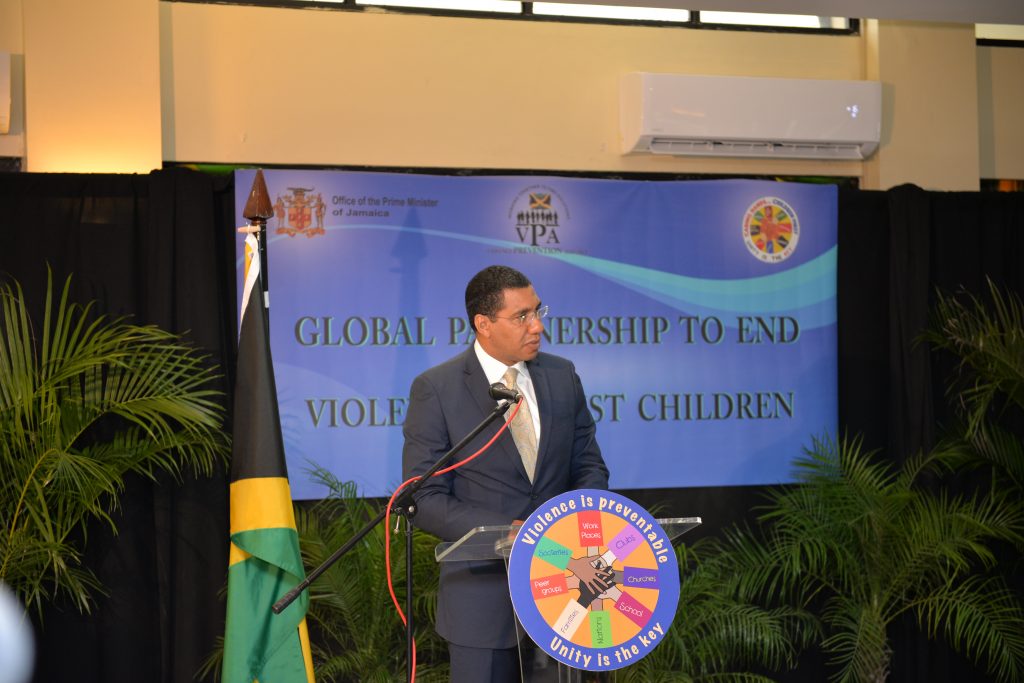 Prime Minister Andrew Holness has directed all government Ministries, Departments and Agencies that violence should not be used as a means of control over citizens.
Speaking at the launch of the Global Partnership to End Violence Against Children campaign at the Office of the Prime Minister today (November 24), Prime Minister Holness said the move is part of a strategic and comprehensive programme to address violence in Jamaica.
"Government has to start with the institutions over which it has leverage and control. Government should not endorse or use violence as a normalised tool of control over its citizens. This is a policy direction that I have given. Our police force must never be seen as a purveyor of violence against its citizens," said the Prime Minister.
In the meantime, the government of Jamaica signalled its intention to keep national and international commitments to protect children. Prime Minister Holness said the Government is committed to promoting and protecting the rights of children and is in full support of the Global Partnership to End Violence Against Children Initiative.
The Partnership brings together governments, foundations, the UN, civil society, academia, the private sector and young people in driving action toward achieving the new global target to end abuse, exploitation, trafficking and all forms of violence and torture against children.
A group of pathfinder countries, of which Jamaica is part of, will make a central contribution to the Partnership, based on their wish to be leaders in ending violence against children and delivering SDG16.2 and related targets.
Prime Minister Holness stated that, "As a pathfinder country, Jamaica is committed to providing comprehensive, coordinated and multi-sectoral services for preventing and responding to violence. We are prepared to strengthen legislation to protect children from all forms of violence and exploitation by bringing all sectors together in a movement to end violence and provide children with a meaningful role at the heart of that movement. Through this partnership, we are making use of a key opportunity to take the lead in making a difference and we owe it to our beloved children to do so."
Mr Holness said violence happens in what are designed to be safe places for children (homes, schools and communities) and by people they know and trust. He further added that there are increasing forms of violence through the internet.
"Our children are our most precious asset and they should not have to live in fear. We are mobilizing our resources to effect meaningful and accelerated changes to ensure progress in this regard," said the Prime Minister.
Prime Minister Holness assured that close monitoring and review of the Partnership will be done to ensure the it is not merely symbolic, but evidenced based and results driven.
-30-