Government Signs Contract for the Largest Housing Construction in St. Catherine
---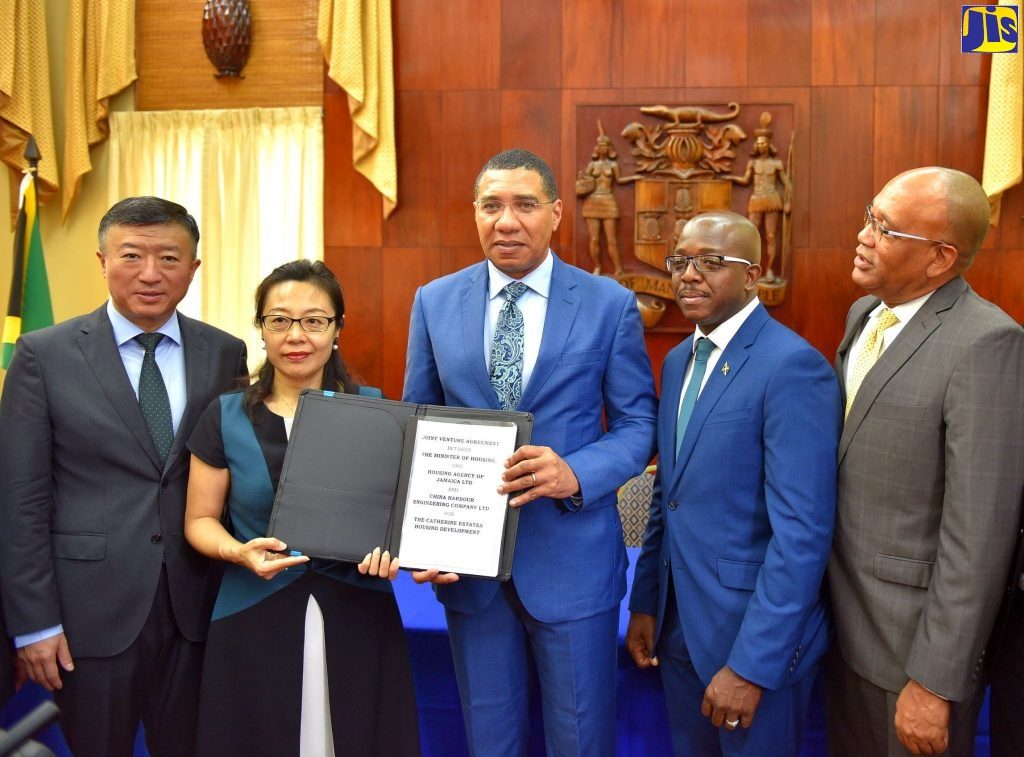 The Government of Jamaica through the Housing Agency of Jamaica (HAJ) and contractors China Harbour Engineering Company (CHEC) this morning (Tuesday, October 15) signed contracts for the construction of 1650 housing solutions in Catherine Estates, St. Catherine.
Prime Minister Andrew Holness has welcomed the signing agreement which will be the largest undertakings of affordable housing solutions in St. Catherine since the development of Greater Portmore in 1992.
"Every Jamaican should have access to safe, sustainable an affordable housing. That is what our vision 2030 speaks to. The HAJ is slated to provide more than three thousand housing solutions for the fiscal year 2019/2020," said Prime Minister Holness.
The project cost $9.5 billion under the Public-Private Partnership (PPP) agreement. According to Prime Minister Holness, the agreement is based upon the design, build and finance model which allows for affordable and efficient housing solutions.
In that regard, Prime Minister Holness asserted that the new 2019 draft housing policy that was tabled in Parliament envisions a country where sufficient, appropriate and sustainable housing choices are available.
"We need to build enough housing solutions that are affordable, that are sustainable and build them at a rate to prevent the issue of the informal settling and the informal creation of shelter solutions. The truth is that under this administration the NHT will deliver more housing solutions in any administrative term in its history. The HAJ has never before delivered so many housing solutions in its history which it will at the end of this fiscal year, will deliver 3027 housing solutions," said Prime Minister Holness.
In the meantime, the Prime Minister underscored that the HAJ has been instructed to focus on providing affordable housing solutions for Jamaicans.
"We are doing all of this to transform Jamaica's housing sector to be able to provide housing that is first and foremost affordable. There is no question, the Government has used the NHT and the HAJ to bridge the gap for affordable housing solutions," said Prime Minister Holness.
Catherine Estates will be developed on 263 acres of land in the vicinity of Lime Tree Grove and Quarry Hill and sits north of Highway 2000.
In 2013, the HAJ discontinued its partnership with the then Joint Venture Partner and went back to the drawing board to revamp the project design to include a more comprehensive drainage plan, increase the number of solutions and identify a new partner to finance and construct the development.
Priority will be given to low income families, first time homeowners, Public Sector workers and civil servants including teachers, police officers and fire fighters.
The projected selling prices are $5.5M for studios and $6.6M for one-bedroom units.