New Social Housing Programme Handing Over Ceremony Speech in Clarendon Southwestern
---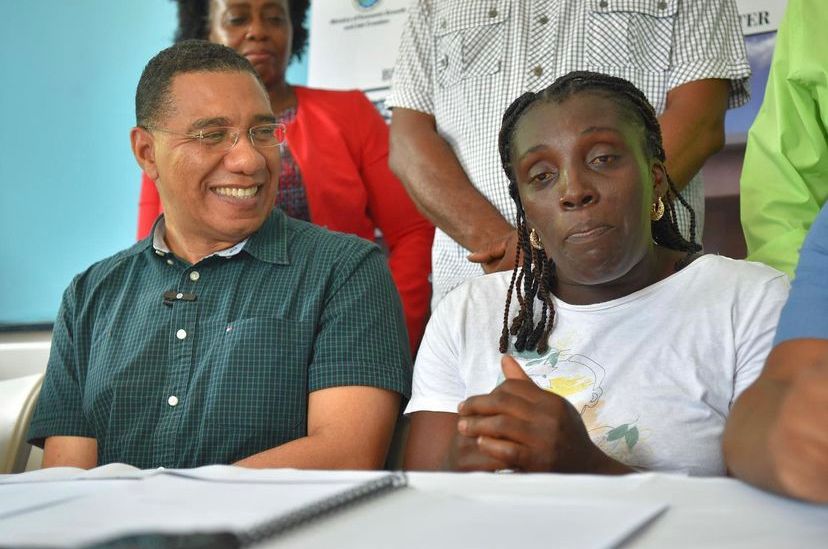 Address
By
The Most Honourable Andrew Holness ON, PC, MP
Prime Minister of Jamaica
At the
New Social Housing Programme Handing Over Ceremony
Clarendon South Western, Kemps Hill, Race Course
On
July 12, 2023
________________________________________
I have to thank our Mayor Maragh and our Councillor Pauline Reynolds for the very warm welcome as well. So on behalf of the Social Housing team that is here, we thank you for the welcome, and let me thank the people who are gathered of all stripes, colours, and social groupings and communities that are assembled. It is quite a diverse set of observers that we have here on the periphery of this function. Some are in very bright green and some are in orange colours, significant numbers are gathered and it is reminiscent of a period of time which comes about every five years or so, but that period of time is not near. I get that there is an attempt to kind of bring on that period of time before time, time doesn't come yet time.
Well, there is still a lot of work to be done before that time, and as the person who has responsibility to do the work, I have to ensure that I get the work done so that when that time comes and you have to assess and make a decision, you have a rational objective basis on which to decide; not an emotional basis, not a spurious basis, not a hearsay basis, but genuine factual work, tangible things that you can touch, feel, and see as it improves the quality of your life. So those are some preliminary comments that I will make.
As we hand over a new unit under the New Social Housing Programme to the beneficiary, the beneficiary being Mr Everton Samuels. Everton, congratulations. Based on the pictures here, it is clear that you are a deserving beneficiary.
Let me say that this programme is not political. There is no criteria under the selection parameters, which ask for your political allegiance. All that is required to be selected under this programme is that we establish that you are someone who is in need.
There are two layers that establish that. The first is your application to your Member of Parliament, and we expect that your Member of Parliament would come and verify that you are in need. So we are not expecting that the MPs or the Councillors or whoever else may take your application would take it without some form of verification. But even after that is done- because the MPs are allotted in the first instance five units, and then we have allotted them an additional five and an additional five but even then, they may get a hundred applications from which they must select 15.
You see the difficulty? So, they must select the most needy cases that can be justified. Even after the selection is made, it then goes to an oversight committee that then takes the application, the recommendation from the MP, and they do what is called a social investigation. They literally send persons from the central ministry into your community to check that Mr Samuels actually live right here, and this is not some fake picture that has been sent in, but they also want to establish some other important factors. They want to know whether or not Mr Samuels has income, so that means we want to know if you are working and if the work that you are doing puts you into an income category where you could afford to purchase a home.
Once we establish that you are not in an income category where you can purchase or you are not an income earner, you may be retired as it appears that you are now, or you may be indigent meaning you are unable to take care of yourself, then we would say, yes, this person qualifies.
Then we look at your household. Are you a single person or do you have children in your household particularly if you have a large household, we would want to look at that and consider that in approving your application. So, once we have taken all of those things into consideration, then we move to another level now, Do you have rights to the land on which you are proposing to build? That's very important.
The government can't go and build a unit on property that they don't own or the rights to use is not properly established. Now, that process of establishing the right to use the land can take an extended period of time. If you own the land, that's fine, we move right ahead once you establish ownership, proof of title or some other proof. If you have to get a deed of gift or you have to get a lease or you have to enter into a sale contract, that takes time. It can take up to a year sometimes, and we have had cases under the New Social Housing Programme where the establishment of the right to use has taken an extended period of time. We can't bypass that. That is law and policy and if we were to do it, the first person to criticize us would be the MP Lothan Cousins through the PAAC. Well, it's the PAC after the fact is done but the PAAC during the process, and not just looking at the expenditure, but looking at the process; alright. But you sit on the PAC?  No, no, I understand you sit on the PAC, but I'm saying that the process that oversees government programmes and their activities is the PAAC.
The PAAC oversees government expenditure after it has occurred, but in whichever place the same persons who are saying, let's move quickly, will be the same persons to criticize you if you are not compliant so we have to do both things. We have to move quickly and we have to be compliant. It is not easy to do, and as my explanation continues, you will see some of the difficulties that we encounter.
Now, after we have established that you own the land, either through you are an outright owner or you have right of usage of the land then we have to go through the process of designing and engineering because it's one thing to say, I have land, it's another thing to say whether or not this land is suitable for building. You can have land with slopes looking like this where it doesn't make sense to build on because the infrastructure work that you would've to put in to be able to build wouldn't make sense. So we have to do the engineering and the designs to make sure that the land is suitable for building.
Now, after we have completed that, then we move to another step, and that is now the contracting and that is where we may have some trouble because we are bounded by the procurement laws of the country and infractions of that law carry criminal penalties in some instances. So, the persons who are in charge of procurement are usually very process oriented. They want to ensure that everything follows the process, that all T's are crossed and all I's are dotted and if the process fails, we go back over it again.
Now, the procurement process is necessary because, one, you want to ensure fairness in government expenditure because the question is who gets the work, why did contractor X get the work and contractor Y didn't get the work, so we need to have a process that is competitive and we call that the procurement process.
But then you also want to ask another question, did you get the best price for the works that you issued? And how do you secure that best price? Well, you have to put it through a competitive process that people bid and say, I can do this work for X and somebody say no, no, no, I can do it for X minus one.
Now, what we are discovering in the procurement process, which is not unique to Jamaica, but it is a challenge worldwide, but countries have adopted models to deal with it, is that the lowest price is not always the most efficient, and it doesn't always deliver the results that you would want. So there has to be some amount of understanding applied to how the procurement rules are utilized. And indeed some of those procurement rules may need to be reviewed in light of the circumstances which we know encounter as we try to move the process along quickly.
Now, having completed all of that, going through selection, ensuring that the selection process is integrous, going through ownership of the land, then checking to make sure engineering and designs, and then going through procurement; sometimes it can take a year and a half, sometimes even two years. We have had cases where a beneficiary has been approved and we have not been able to go to construction because somewhere along that process there is a failure that has to be corrected.
So, in response to MP Cousins, not a complaint but bringing to the attention of the public that there are these issues, my response is, yes, the programme does have issues, but it is not as a result of the programme design or administration. We have built the programme to be compliant with the laws, and if there are situations for which the law requires a particular action, even if those actions will elongate the process of delivery of the house, we will have to follow them. That we know is to the detriment of the beneficiary because to move the beneficiary from here to here, meaning from this situation to that better situation, we would want to do it in the shortest possible time, but we also have to do it in compliance with the law. And that's what the hallmark of this project is that we must deliver the benefit compliant with the law and that's what we have strived to do.
I wish to point out, however, that there are instances when we have been able to move much quicker than the average process time and that is because for one, we have MPs that help the applicant along the process so they get involved and they help the applicants to solve the land use issues. So they get lawyers sometimes, they will pay whatever fees are necessary and I gather that Mr Cousins assisted several of the beneficiaries in this way to ensure that the process moves quickly than if the beneficiary were just operating on their own.
We have had instances as well where the contractors have been able to deliver the housing solution much more quickly than we had expected. For example, this unit from start to finish was in a matter of weeks, right? I believe less than eight weeks and we are usually budgeting 12 weeks for the completion of a unit.
Now, bear in mind, 12 weeks for the completion of a two-bedroom, a three-bedroom is way above industry standard in terms of efficiency and delivery so the project itself in terms of construction delivery and in terms of construction cost is very efficient and I'm very happy for that.
When we started out, we were delivering units at seven and 9 million for two-bedrooms and three-bedrooms. Now, we are down to five and six, even four million dollars at times in terms of the delivery of units so the programme is doing well. There are challenges, but these challenges are not challenges that you would consider to be systemic to the programme itself. It's just that we have to be compliant with the law and whatever the law says, the programme is designed for that.
Now, having said that, very quickly I'd want to point out that the government has put in place several initiatives to increase home ownership in Jamaica. Now, I had said earlier that now is not the season though some people are trying to bring on the season. There is a lot of climate change taking place including this extraordinarily hot summer, and there are those who would like to change the political climate as well and we must do everything in our power to ensure that climate change doesn't damage our way of life in either way.
But it is important to point out some facts that this administration has built per year more houses than any other administration before. The NHT before 2016 was delivering on average about 2000 to 2,500 units per year. Since this administration, we have gone as high as 6,000 units delivered in a year. We have increased the pace of housing delivery.
In 2020, we made a commitment that we will build 70,000 new houses. The housing gap is estimated to be over a hundred thousand housing solutions for Jamaicans. We know that we would not have the capacity to do a hundred thousand houses, but we know that we could stretch our capacity to take on the construction of 70,000 new housing solutions.
There are several agencies, several entities in Jamaica, which will take this on. One of them is the National Housing Trust. The other is the HAJ, the Housing Agency of Jamaica and then we have the Ministry of Housing itself, which does programmes like this one, which we call social housing under the New Social Housing Programme. We have UDC, which is also going to be building some houses.
Now, the NHT has committed to do 43,000 housing solutions, but what kind of houses will these be? Well, the truth is that the real demand for housing is in the category which we call affordable housing. Now, I can't tell you a price point of what would be considered affordable housing, and you know why I'll avoid that? Because no matter what price I say someone is going to say that is too high, but you get the idea of what I'm communicating when I say affordable housing; a house that you can afford, whatever your price point is.
The NHT does have a reserve price point in mind when they speak about affordable housing and so what we're trying to do is to redirect the resources of the NHT into the affordable housing market so the majority of the 43,000 houses that will be built, will be houses that you can afford, affordable housing. And the NHT has put in place several programmes to attract developers into that segment of the housing market, and I was on the phone this morning with the managing director of the NHT and he tells me that they are close to settling with certain developers approximately 8,000 units out of that 43, which will be coming to market very soon.
Now, in terms of the funding of housing coming from the NHT, you would've heard that as of the 1st of July, the NHT has increased its benefits to contributors. Single applicant can now get $7.5 million, that was increased from 6.5 million. However, we have added a twist to that. If you are going to buy a house and the house is priced at 12 million or lower, then as a single applicant you can get 8.5 million dollars.
So what that is structured to do is to attract developers into what we consider to be the affordable housing market and to support persons who are buying houses in the affordable housing market so that's a twist that we have put in that will encourage both developers and purchasers within the affordable housing market.
We have made it possible for three persons to co-make, as they call it. Before it was two, now we have increased that up to three, but if three persons co-make, then you can get a maximum of 21 million dollars, which is good. That should be able to get you not just an affordable house, but what you would call a middle-income house.
We have done some other things as well. We have increased the home improvement loan limit from 2.5 million to 3.5 million. We have also increased the benefits that we give to the home grants from 2.5 million to 3.5 million, and that is for minimum wage earners who can apply to the NHT for a home grant. And we have also increased grants for other categories including the disabled community.
Now, this is in keeping with a policy, which we call Income Contingent Benefit. So what we are trying to do is to give benefit to the people according to their income. So, the more income you earn, clearly, the less the subsidy should be. The less income you earn, the greater the subsidy. So, let's go back to the New Social Housing Programme.
So for persons who we have assessed as not having any income at all, what should be the benefit for those persons? They should get the most subsidy, and that is why having assessed the beneficiary in this project, Mr Everton Samuels, who obviously is a retired gentleman who obviously is not working, he would get 100% subsidy on his house, meaning that we are going to hand this house over to him under the social housing programme where he will not have to contend with a monthly mortgage payment, but he now has an asset which he will own, which he can then use to pass on to his family. So, not only are we giving him the convenience of a proper home, now he is able to break intergenerational poverty. Having this house, your children and their children will have a basis on which to step-up inna life. And so it gives me great pleasure to be able to hand over this unit to you in keeping with the government's policy of providing support to all Jamaicans according to their abilities to give them this which we all agree should be a right, but to give them access to proper shelter.
So with those remarks, I want to encourage all Jamaicans, regardless of your circumstances, regardless of how you may feel that, you know, we may never be able to own a home; I want to encourage you to have faith. I want to encourage you to think positively, and if you are really interested in acquiring a home, the first thing that you want to do is start to save. That's the first thing. No matter how small it is, put aside something, no matter how small, and then after that, make sure that you are a registered NHT contributor. Those are two important things because your government is structuring the NHT in such a way that there will be a benefit there for you to be able to own a home.
When we put those 70,000 houses on the market, you could be one of those homeowners, but you can't just stay out there and say, we can't afford it, no house is there for me when you have not entered upon this journey of owning your own home, finding out about all the policies and initiatives that are there, and put yourself in a position to qualify for those right.
On our side of the bargain, what we are trying to do is to analyze the market and see how we can use the NHT to support every strata of the market to help you get a house and that support is being guided by what we call the Income Contingent Policy, which is the less income you earn, the more we will direct the NHT benefits and other government subsidies towards you. So, all it means is that more poor people are going to get more houses; that's the basic essence of the income-contingent policy. We're going to drive the NHT benefits so that the small man, the poor person, the low-income earner, those are the people now who must benefit under the NHT and benefit from those 70,000 houses.
This programme, the New Social Housing Programme is a demonstration of how we are ensuring equity in the housing system. What people said to me, Lothan, is that they see all kinds of people buying houses uptown in Kingston, in Mandeville, in Ocho Rios, in St. James, all over apartments going up on people are able to buy them; what about me, low-income earner who can't? what about me? So what it says is that the market by itself is able to deliver middle to high-income houses, but the market by itself is not able to deliver middle to lower-income, to low-income housing and so what Government is doing is going into the market and supporting the market, meaning the private developers and others to build houses that you can afford and to give you the subsidy, the support according to your income so that you can become a homeowner.
So, I want to explain that to you. I want to encourage you, and I want to say to you, in the 70,000 houses, there will be a house for you, but get yourself prepared.
God bless you and love you. Thank you.