GOJ Signs MoU for New Parliament and Redevelopment of Downtown Kingston
---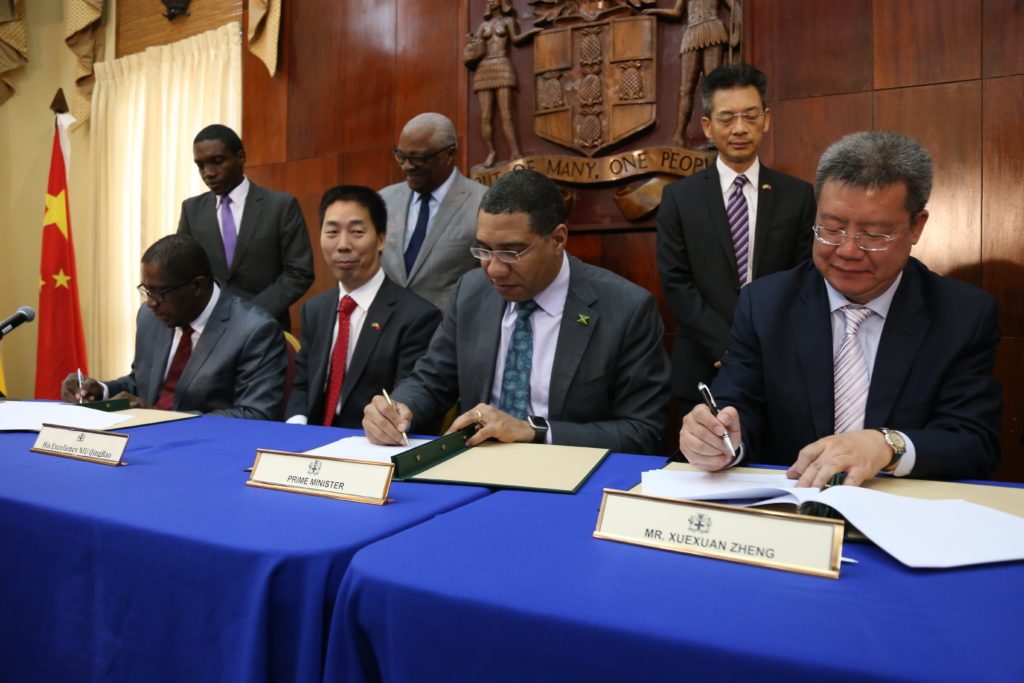 The Government of Jamaica (GOJ), through the Urban Development Corporation, UDC, this morning (March 9) signed a Memorandum of Understanding (MoU) with China Construction Company of America, CCA (South America Division) for the Government of Jamaica Parliament and Government Offices Oval Zone project.
The signing of the MoU is the first phase of the project which will see the CCA providing consultancy services for the design concept of each zone.
Speaking at the signing, Prime Minister Andrew Holness said he is happy for this Public Private Partnership which signals the start of great things for Jamaica.
"In concentrating development effort we could become the catalyst for the wider redevelopment of the downtown Kingston area. The general vision is not just to put up square boxes that rise several stories. The vision is to build buildings that represent the future of Jamaica. Buildings that show the aspiration of the Jamaican people, structures that when we look at them we can say we are leaving legacies for future generations, and when you put them all together you can also say that we are building communities", stated Prime Minister Holness.
Last year the prime minister announced that the government would seek to develop a campus of government buildings that will surround the National Heroes Circle, with the intention to bring together all ministries, agencies and departments into a purpose built area which can be leveraged for greater efficiency, provide greater security and improved service delivery.
"The government will provide the lands, we will ensure that the regulatory environment works in an efficient and supportive way, we will participate in the design and development of the project, we will ensure security for our Chinese partners who will be working in Jamaica, and we will ensure that generally, the atmosphere around this project is one that is representative of the good relationship that exists between the government of Jamaica and the government of China", remarked Prime Minister Holness
The UDC in 2010, as part of its redevelopment plan for downtown Kingston and Port Royal, designated the National Heroes Circle and the surrounding zone as the space to locate the GOJ parliament, a national museum and locate government offices and mixed-use commercial, residential and service zones around the oval.
–30–
Contact: Communications Unit-OPM
Tel: 926-0244, 927-4101
Email: [email protected]
[email protected]
FB: www.facebook.com/jamaicahouse
TW: www.twitter.com/opmjamaica
Web: www.opm.gov.jm