Investment over Debt, Coordinated Approach to Managing Gangs and the Cost of the Ukrainian War, Among Areas Highlighted as Prime Minister Andrew Holness Addresses EU-CELAC Plenary Session
---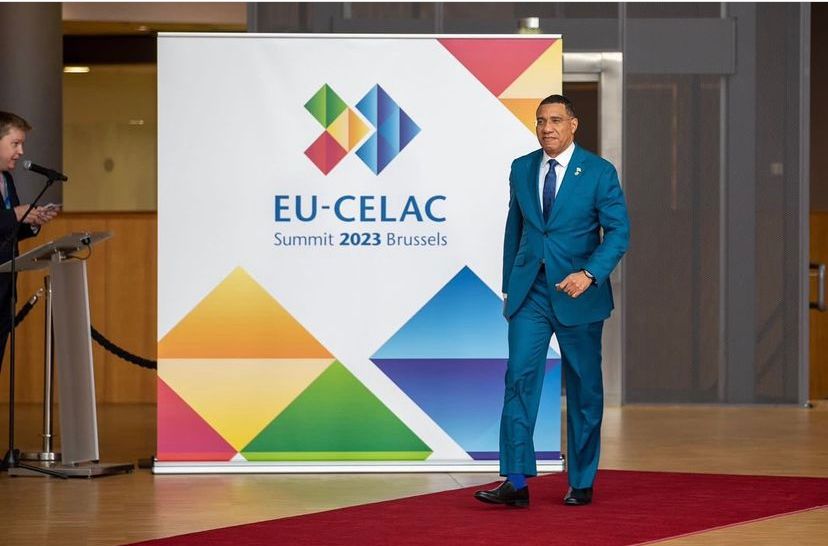 "Criminal gangs are the new terrorists. They now threaten democratic states.  The criticality of addressing this issue cannot be overstated."

– Prime Minister Andrew Holness
Prime Minister Andrew Holness, in addressing the EU-CELAC summit today (July 18, 2023), highlighted Jamaica's debt reduction efforts and emphasized that Jamaica's interest is in investments rather than access to more debt. In this regard, Prime Minister Holness welcomed the EU's new €45 billion Global Gateway Investment Initiative, which seeks to promote and de-risk investments in infrastructure, technology, energy, and climate.
The Prime Minister said, "Jamaica is encouraged by the objectives of the Global Gateway Investment Agenda (GGIA). We look forward to the implementation of this Investment Agenda in Jamaica. We have, however, made significant efforts at debt reduction and are therefore hopeful that focus will be placed on de-risking investment, accessible interest rates, and technology transfers."
Prime Minister Holness also used his address to draw attention to the destabilizing impact of gangs, guns, and drugs on states in the Latin American and Caribbean Region, noting, "Criminal gangs are the new terrorists. They now threaten democratic states. The criticality of addressing this issue cannot be overstated. While it cannot be solved here today, I signal the need to elevate cooperation on issues of holistic citizen security on our development agenda."
Prime Minister Holness called for criminal gangs to be addressed with a new, elevated, strategic, and coordinated approach at both regional and international levels.
Turning his attention to the ongoing effect of the war in Ukraine, Prime Minister Holness said it is having a devastating impact on small developing countries like Jamaica, particularly through the impact on food prices on the poor and minimum wage earners.
Prime Minister Andrew Holness concluded his presentation by urging resolve and pragmatism to ensure that representative countries deliver for their people as Jamaica looks forward to a deepened mutually beneficial relationship between CELAC and Europe.