Tackling Crime must be driven by Intelligence and Surveillance Says PM Holness
---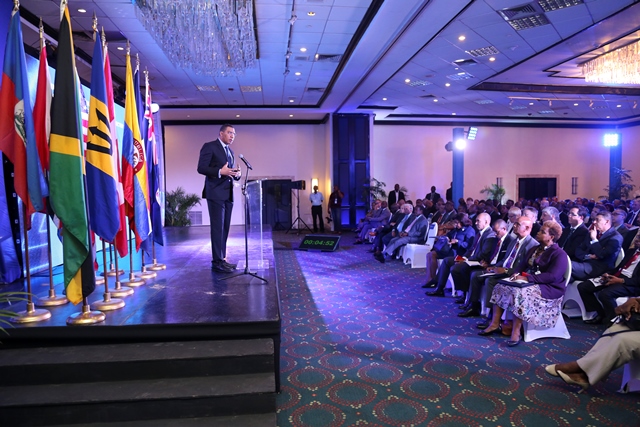 Prime Minister Andrew Holness says the Government must be focused, targeted and driven by intelligence in tackling crime.
Speaking at the multilateral crime summit this morning (June 15) at the Jamaica Pegasus Hotel, Prime Minister Holness said the police force is undergoing a transition.
"The men and women of the JCF will relieve themselves of the overreliance on hard policing, and will transition into an intelligence driven organization that relies on information gathering, on big data analysis, and on strategic planning to give them a more targeted approach to separate criminals from law abiding citizens," he explained.
The prime minister noted that traditionally the police force relied on strong enforcement strategies that have not always been respectful of human rights. However, Mr. Holness says it is now changing and at a phase where human rights and the protection of citizens are paramount. He noted that a balance must be struck to ensure police personnel feel motivated and they are willing to carry out their duties without worry that after trying to do the right thing, they end up on the wrong side.
To this end, Prime Minister Holness said INDECOM and the new piece of legislation need to be reviewed like any other legislation to ensure that its operations are not an obstacle to law enforcement.
"We have to find the right balance to ensure that criminals don't feel that they can use the existing laws as a way to protect them. Laws protect the innocent. Laws must protect human rights. Laws must never be in such a way that they can be used as a tool to protect criminals," he stated.
Mr. Holness made it clear that the government will move to decisively deal with crime. "The level of savagery that we see sometimes we wonder where is the humanity. The state cannot sit by and allow this to continue. It erodes confidence. It creates a negative outlook. The state has to act," he said.
The two–day Multilateral Crime Summit  which opened today, is being hosted by the Ministry of National Security in partnership with the Canadian, Colombian, EU, UK, and US Governments to produce actionable opportunities to strengthen intelligence sharing at the community, national and international levels in order to dismantle criminal organisations.
The summit will focus on 'Combatting Crime in an Interconnected World'.