Outsource to Latin America and the Caribbean 2023 Global Digital Summit O2LAC
---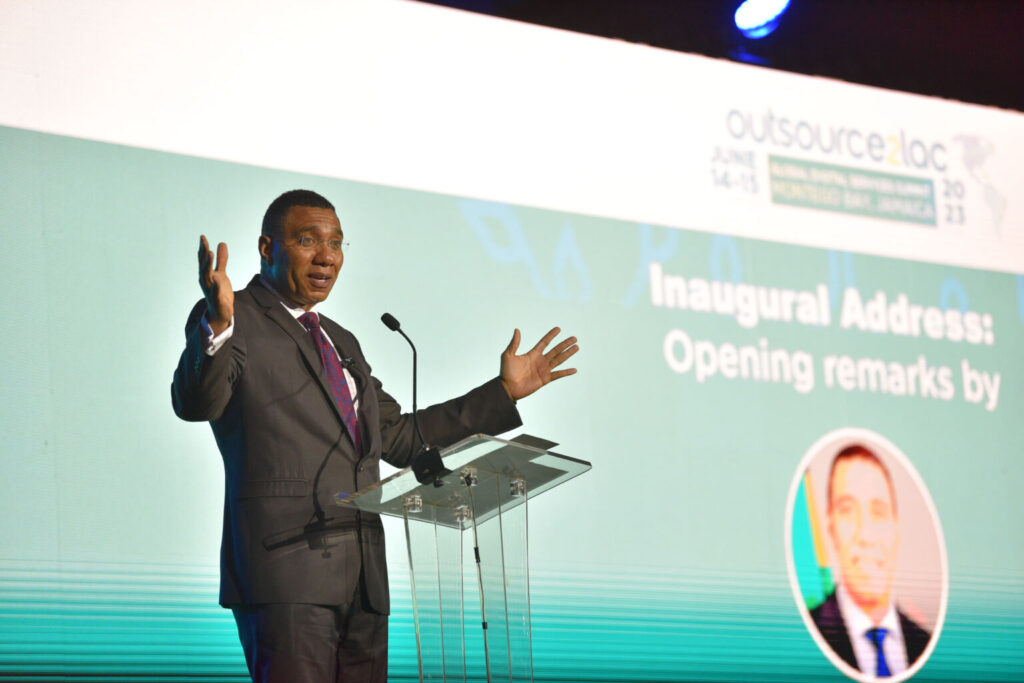 Opening Remarks
By
The Most Honourable Andrew Holness ON, PC, MP
Prime Minister of Jamaica
At the
Outsource to Latin America and the Caribbean 2023 Global Digital Summit O2LAC
On
June 14, 2023
—————————————————————————-
Thank you, Master, of Ceremonies, Dr. Terri Karelle.
Now, like Tariq, I only speak two languages; so English welcome, how are you? And Jamaican, what a gwaan?
I see the Jamaican languages catching on. Allow me to formally establish the protocols.
Senator, the Honourable Aubyn Hill, our Minister of Industry Investment and Commerce
Senator, Dr the Honourable Dana Morris Dixon, our newly minted Minister of Skills and Digital Transformation in the Office of the Prime Minister
Our hardworking Director of the General Manager, Country Manager of the IDBB, Mr. Tariq Ali. Tariq obviously by accent, is from Trinidad, but he behaves like a Jamaican.
Mrs. Shullette Cox, President of our promotion's agency JAMPRO
Mr. Yoni Epstein, Chief Executive Officer of ITELBPO
Other specially invited partners and guests and stakeholders, all
Representatives of the media
Ladies and gentlemen, good morning, once again.
It is my pleasure to speak here this morning at the 9th staging of the Outsource to Latin America and the Caribbean 2023 Global Digital Summit (O2LAC); that's the abbreviation.
O2LAC, ladies and gentlemen, is the largest outsourcing showcase in the Western hemisphere and Jamaica is delighted to host the summit this year and I extend very warm Jamaican welcome to all attendees from overseas. Welcome to Jamaica.
Friends, there has never been a better time to invest in Jamaica. Jamaica is in the midst of a remarkable economic rebound from the COVID-19 pandemic and the overlapping global economic shocks that occurred after and I am happy to say that Jamaica even during the pandemic, and especially now, Jamaica is open for your business.
Governments and politicians in general, especially in these difficult times, don't have too many things to brag about but when we do, we have to brag. It's not being considered to be in any arrogance or lack of humility, but with so many troubles in the world, when there are good things, we need to wave about them.
Real Gross Domestic Product, (GDP), for the Jamaican economy, grew by an estimated 2.7% in January to March 2023 in that quarter, compared to the same quarter last year with the services industry registering growth of 3.8%. Now, this represents our eighth consecutive quarter of economic growth, our overall economic output levels have now surpassed pre-COVID levels one year before our projected timeline. So that is something that I'm celebrating about, and we have a national cultural icon that when she expressed good news, she used to say, "clap yourself", meaning celebrate yourself and your achievement. Our Net International Reserves as at March 31, 2023 are now 4.15 billion, an increase of 38% from pre-COVID levels.
Ladies and gentlemen, the past three years have cumulatively represented as all of us would've experienced the worst global health and economic crisis in a hundred years. There can be no greater testament to Jamaica's economic and social resilience than that we have endured these crises without triggering a debt crisis, a balance of payment crisis, or a currency crisis. This was our experience with external shocks in the past.
It is particularly notable that we have managed to continue our debt reduction trajectory even after increased social spending for protecting the most vulnerable during the pandemic, and to manage a health crisis that even during that, and even with the falloff in one of our major foreign exchange earners, we ended the financial year, March 2023 with a debt to GDP ratio of approximately 78%.
78% standing on its own may not sound as a major achievement, but we were coming from a decade ago, a debt to GDP ratio of almost 150% of GDP.
The outlook of our sovereign debt rating has been revised upwards from stable to positive by our international rating agency, Fitch. Despite this strong economic performance, my administration remains cognizant that the global economic headwinds have not abated, and the global economic outlook remains highly uncertain. We will therefore maintain an approach of strong fiscal discipline, while at the same time implementing policies that encourage private sector growth and an improved quality of life for our people. We will therefore continue to pay down our debt and strengthen our buffers to respond to any future crises making Jamaica stronger and more resilient than ever before. Jamaica is a strong economic destination for your business.
Friends, prospective investors, Jamaica's response to the pandemic and the management of the subsequent global crisis demonstrates two things. Firstly, the robustness and the maturity of the political institutional framework underpinning our macroeconomic stability. Why we undertook significant spending to strengthen the social safety net and protect the most vulnerable, we did so in a judicious and disciplined manner, always making sure not to compromise our long-term economic prospects. Our primary goal was to save lives while undertaking deliberate steps to ensure a strong economic rebound post-pandemic.
Secondly, it demonstrates the resilience of the Jamaican economy in a period where our number one foreign exchange earner, tourism, was decimated. Other industries, such as your industry, the global service sector, as well as our construction sector, was affected, but they still grew. As I said before, Jamaica has now fully recovered, and we are aggressively pursuing investment and trade-friendly policies to accelerate this economic growth and prosperity for our people.
Again, I emphasize that it is a great time to invest in Jamaica and we welcome your investment. I will now share some many actions being taken to enhance our business environment.
We are implementing a national broadband initiative, which aims to boost the adoption and usage of broadband, improve quality and coverage of key services, and promote entrepreneurship and boost ICT exports.
We will soon be launching our national digital identification that will enable all Jamaicans to have a digital identity, which will enable access to online services and digital transactions as we move towards becoming a digital society. In fact, because we take this matter of becoming a digital society so seriously, I have recently appointed a new Cabinet Minister, Dr Dana Morris Dixon, who will be focused on ensuring the development of skills and the digital transformation of Jamaica. Both are two key elements for your business sector.
You need the skills to power your operations, no matter what they tell you about AI. You will still need the skills to generate the AI and you will need the architecture, the environment, legal and business to ensure that your sector can operate. So, we have two ministers whose sole focus is that investment and commerce, skills and digital transformation, to ensure that Jamaica is the place for your business. Clap ourselves.
The Bank of Jamaica in July 2022 launched our digital currency, which will open up the payment service industry and improve the ease of digital transactions. And we have made critical advancements in the ease of doing business through the National Competitiveness Council, which is a public/ private group that executes the business environment reform agenda in Jamaica.
But one area in which I think you will have great interest is that since my administration has been elected since 2016, business in Jamaica have enjoyed fiscal certainty. There was a time in Jamaica where whenever our budget was being read, businesses and households would be in great trepidation what would be the tax environment as a result. So, for the last eight years or so, Jamaicans have forgotten about new taxes. We have had no new taxes levied on the Jamaican business or household since this administration.
And that has given a very long and stable and predictable runway and confidence for businesses to plan and execute, and that is a commitment that we intend to keep as long as possible, to inure business confidence, and to support the development of long-term planning for business and if for that reason only, you should invest in Jamaica.
Many positive outcomes have already been realized and Jamaica is now one of the easiest places to start a business globally. The Company's Office of Jamaica, our company's registry has established a seamless customer experience by enabling the starting of a business with the completion and submission of one form. To further improve the business environment, our national investment policy aims to make it easier to invest in projects that are sustainable, innovative, and contribute significantly to Jamaica's economic and social development.
JAMPRO recently launched the Jamaica Business Gateway, a one-stop shop for prospective investors in Jamaica. The ultimate goal is to house business-to-government transactions on one platform so that businesses can process registrations and applications to establish or expand operations, apply for permits, licenses, and other authorizations on this one seamless platform.
Jamaica's Global digital services sector has been averaging 20% employment growth over the last five years, which is among the highest in the world. Employment in the industry is currently estimated at just over 60,000 persons. When we started, we were at about 25,000 when this administration took over. This is because of our natural advantage in terms of location and being a prime nearshore location. It's because we have a talent pool, and of course, we have established the Special Economic Zone which creates incentives for outsourcing firms to operate in Jamaica.
The SEZ, (Special Economic Zone), provides for 100% exemption from import duties, which allows for the importation of equipment, computers, furniture, et cetera and this is all import duty-free. The operational costs of companies in the special economic zone are further reduced with 100% exemption from our general consumption tax on utilities and services.
The Special Economic Zone regime also affords outsourcing companies stronger earning power with a reduced headline corporate tax rate of 12.5%, which can go as low as an effective 7.75%. So, Jamaica also has in addition to its natural advantage, in addition to the fiscal policy, the economic certainty, we have put in place a transparent system of incentives to promote your business.
Well, we are also looking at ensuring that your business can expand with the necessary skills. One of the areas I did mention earlier, which we should celebrate is that a decade ago our unemployment rate was double-digit. Today, our unemployment rate is hovering between six and 7%. In some economies that would be considered close to full employment, and that's an achievement for an economy like Jamaica with our economic history but it is introducing new problems. We now have to be deliberate and instrumental in how we manage and bring skills to market.
And that is why we have appointed a minister to deal specifically with skills to ensure that as interest in Jamaica grows to set up new businesses, that there is the labour, the skills and the creativity and innovation to support the business. Jamaica is the place to be for your kind of business.
We actually have an entity that was established many decades ago to ensure that Jamaica always has the business aligned skills, it's called the HEART Trust, that is the human skills and training agency in collaboration with sector players and they are actually focused on training the skills you need, the labour you need for your business and they have been partnering with the industry in very effective ways to ensure that there is a constant stream of workers and skills to make your business successful and profitable.
Since 2019, your industry has grown in Jamaica by approximately 30%. Ten new sites have opened during that time, since 2019, and we have over 85 operators in your space. In addition, it is also noteworthy that there is a very active association which lobbies on behalf of your industry, The Global Services Association of Jamaica, which I might add is doing an excellent job. I know because I am on the receiving end of the lobbying efforts.
So, Jamaica is the leading outsourcing location in the English-speaking Caribbean and has firmly established its reputation as a strong and highly competitive destination for global digital services due to its location, infrastructure, similar time zones, talent pool, native English, business friendly environment, and cultural affinity.
And let me say something about the competitive advantage of language. We use being native English speaking as a competitive advantage but that can be easily erased because there is no patent on speaking any language. People can learn and people are learning and, in this region, countries like Jamaica where we are native English speakers, but when you think about the Latin American region, you have more Spanish speakers and so it is incumbent, I believe, on countries like Jamaica to have strategic language policies so that our Jamaicans can also articulate in bigger markets than ourselves. It is in our strategic interest, and we have been contemplating how to do this in our country to ensure that we have a bilingual strategic labour pool that can drive our economic growth.
But aside from that, of course there is always the cultural affinity. There is always a kind of interest, and I dare say, mystique about Jamaica, and that in itself can be a pull for business. In addition to that, however, Jamaica is also seeking to offer additional opportunities to be considered a viable opportunity for shared services and therefore to develop businesses in human resource management, information technology, finance, accounting, and economics, architecture; all kinds of new businesses can be developed outside of the core business of global outsourcing.
Jamaica also has a proven track record in IT innovation with an increased graduate output from computing, informatics and engineering programmes, which complement various public-private partnership initiatives to advance Jamaica as a knowledge society through the promotion of software coding and development. We are seeking to move up the value chain in the outsourcing industry.
In fact, 16 local technology firms are participating in your conference, and I encourage you to visit with them in the Business-to-Business exhibition space here at the summit. Further, Jamaica is home to the Norman Manley Law School at the University of the West Indies, one of three regional schools accredited by the Council of Legal Education and this places Jamaica in an excellent position to attract outsourcing in these areas of law and contracts and so forth. You would've seen reported in the press which is why I mentioned AI. There is the view that somehow artificial intelligence could replace human intelligence and you would've seen where lawyers would've brought to court cases that are generated by AI and they were found out. You don't have to worry about that, you can use the Jamaican lawyers to go and research your case and properly document them for you to present them to the court.
In closing, I commend the Ministry of Industry Investment on Commerce, the Jamaica Promotions Corporation, (JAMPRO), and Connect America for organizing this important summit.
I also wish to recognize and thank the IDB. IDB has been a very strong partner for Jamaica, one of our very faithful development partners for choosing Jamaica to host the summit this year. This is undoubtedly an excellent time to invest in Jamaica. We have staged a remarkable recovery from the pandemic, and we are now back on our pre pandemic strong growth trajectory. We are undertaking the investments in infrastructure required to leverage Jamaica's strategic geographic location at the centre of the Americas, and we are investing in the digital services space and offering strategic world-class nearshore delivery services.
There is a myriad of investment opportunities in traditional areas as well as exciting new areas. Jamaica is open and excited to do business with you. We welcome your investment. Let us partner and make the relationship mutually beneficial to all of us.
Ladies and gentlemen, I thank you and I wish you a very successful summit. And as Ms Lou would say, our national icon, walk good.